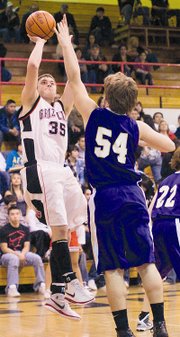 The Sunnyside boys basketball team controlled the Wenatchee Panthers for the first three quarters of last night's CBBN Columbia Division match-up. But every game is four quarters and the Grizzlies suddenly couldn't find the basket in the final stanza and lost 55-48.
"We had a tough time shooting in the fourth quarter," Sunnyside Coach Ron Rowe said.
Tough is right. Sunnyside shot just 2-for-13 (15 percent) in the final period, scoring just five points. That was after shooting 45 percent (18-for-40) in the first three quarters.
Sunnyside got off to a good start in the first quarter behind the shooting of James Sanchez. He scored 11 points in that quarter to lead the Grizzlies to an 18-15 lead. Sunnyside stretched the lead to 31-26 in the second quarter, with Alfredo De La Barrera and Jacob Bos each scoring four points in the quarter.
Bos continued his hot hand in the third, getting the Grizzlies six points, and De La Barrera added four points as Sunnyside built up a nine-point lead, 43-34, heading into the final period.
That's when Wenatchee's Jared Jaeger got hot. The Grizzlies had held him to just six points in the first three quarters, but he erupted for 11 points in the final one, hitting three shots from behind the three-point arc.
Wenatchee's big man, 6'8" Connor Smith, scored six points in the last two minutes of play as the Panthers outscored the Grizzlies 21-5 to steal the victory.
3A Sunnyside finishes division play with an 8-4 record, good enough for second place in the 4A heavy league. The Grizzlies have two games left on their regular schedule, Hanford on Feb. 12 and West Valley on Feb. 16, before Sunnyside begins District play on Feb. 19.
Sunnyside last night was led by Bos with 18 points and six rebounds. De La Barrera had 12 points for the Grizzlies and grabbed six rebounds. Sanchez had 12 points and added two steals to his stats. Chance Graff finished with four points for the Grizzlies and Jordan Esqueda added two points, dished off four assists and collected two steals.
The Panthers were led by Smith with 19 points and 14 rebounds. Jaeger added 17 points for the Panther cause. Teammates Cooper Helm and Alec Martin had six points for Wenatchee. Andy Arndt added three points and teammates Kyle Keeler and Cass McKey each had two points apiece.
"We did some things real well," Rowe added. "We moved the ball offensively and got some good looks. We just didn't make our shots in the fourth quarter."