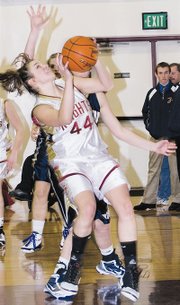 "It was a very hard fought, physical game," Sunnyside Christian girls basketball coach Al Smeenk said of last night's 42-30 victory over the visiting Riverside Christian Crusaders.
He said his team felt the loss of Hilari Bosma, who tore her ACL last Friday.
"The girls were a little gun-shy, not wanting any more injuries," Smeenk explained.
He had his team open the game with a full-court man-to-man defense and that proved successful in that the team managed to steal the ball from the Crusaders a few times and Julie Long was able to fire up three long shots, sinking them all.
"We played very hard and didn't get into any foul trouble," said Smeenk, stating he is a firm believer in being physical.
"Much of the team was adjusting to new roles with Hilari being gone...for instance Joleen Van Wingerden is usually a post and now she plays guard," the coach continued.
As a result of the aggressive strategy in the opening quarter, Sunnyside Christian led Riverside Christian 17-4.
In the second quarter, the Crusaders changed the defensive strategy and the Lady Knights had to make several adjustments.
"Riverside Christian came down with a 2-3 zone and we made the best of it," stated Smeenk, adding the Lady Knights continued to make adjustments of their own.
The Lady Knights were only able to tally three points in that quarter, but went into the half leading 20-15.
"That second quarter was really a challenge...we struggled and learned to attack the ball differently," Smeenk stated.
The second half went a little better with the Lady Knights outscoring Riverside Christian 9-8 and 13-7 in the final two quarters.
"We, again, had too many turnovers," Smeenk shared when he tallied 22 miscues for his team.
The Lady Knights were 8-for-14 from the foul line, and Riverside Christian was 8-for-10.
Leading Sunnyside Christian in scoring was Kelly Newhouse with 12 points. She also snatched the ball from the glass 11 times.
Julie Long was able to tally 11 points, and Renee Dalrymple scored eight points. Analisa Van Oostrum tallied five points, Alyssa Haak scored four and both Joleen Van Wingerden and Marisa Broersma scored one point each.
The Lady Knights next play Friday at Districts beginning at 6 p.m. The competition will be at Sunnyside High School.