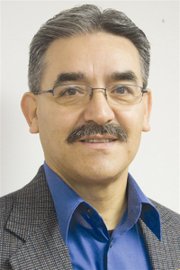 MABTON - The city of Mabton has a new police chief, Rick Gutierrez, formerly a Selah police chief and 25-year law enforcement veteran.
Mayor Angel Reyna introduced Gutierrez last night, Tuesday, during the Mabton City Council's study session.
Council was favorable to Gutierrez, expressing appreciation for his efforts at community involvement, especially in the areas of neighborhood watches and citizen workshops on law enforcement.
Council also expressed interest in Gutierrez's idea to restore a K-9 program to Mabton police. In fact, Gutierrez started his law enforcement career in Mabton and at the time was assigned to a K-9 police dog.
"I look at it as an opportunity to come back to where I started," Gutierrez said of taking the Mabton chief position.
Councilwoman Vera Zavala asked Gutierrez about the commuting he'll need to do as Mabton Police Chief. Gutierrez lives in Gleed and says it takes about 40 minutes to get to Mabton from his home. After last night's meeting, Gutierrez said he may consider relocating to Mabton.
But even if he doesn't, he added, the city is still in good hands in the event of a major emergency while he is at home. Gutierrez noted the city has one other police officer on staff and has support from neighboring law enforcement units.
Though only a year away from retirement as a career law enforcement officer, Gutierrez, 52, pledged to the Mabton City Council that he will stay on board for at least five years.
Gutierrez served with the Selah Police Department for 18 years, the last five as chief. He moved from that department to become an officer with Wapato. He said the switch from being a chief to an officer is because of philosophical differences he had with the Selah mayor.
Gutierrez doesn't see that as a problem with Mabton's mayor, Reyna. "He's real personable, he has a good idea where he wants to take the city."
Reyna is likewise optimistic about Gutierrez, "I'm excited. I see real possibilities in terms of community outreach. I feel very confident in his abilities."
Reyna also noted that Mabton's initial hopes of hiring two police officers in 2010 will likely instead be just one hire, Gutierrez, due to financial constraints.
Before Gutierrez's hiring could become official, though, the Mabton City Council had to create the position of police chief.
Under previous city ordinances repealed last night, the city operated with the title of public safety administrator and chief of police operations.
In related action last night, council updated its salary ordinance to reflect a monthly salary of $4,200 for its new police chief.