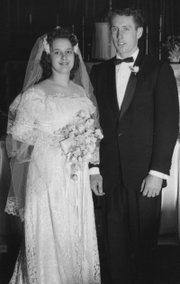 Dale and Barbara Miller of Sunnyside are celebrating 50 years of marriage Saturday, Feb. 13. An open house reception will be held from 2 to 4 p.m., Saturday, Feb. 13 at the Sunnyside United Methodist Church Memorial Hall, on 9th and Edison.
The reception is hosted by the Miller's children, Todd and Lisa Miller of Everett, Tyler and Kari Miller of Grandview and Stacey and Brian Brunhaver of Snohomish, as well as their grandchildren, Megan, Paige, Matthew, Aundra, Brittany and Nadine.
The Millers were married in Toppenish on Feb. 13, 1960 and raised their three children in the Lower Yakima Valley. Dale Miller worked as an assistant field manger for I.P. Callison and Sons before retiring in 2008, and Barbara Miller was a Sunnyside High School ASB/Athletic Secretary until retiring in 2007.