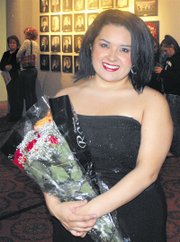 Eight young women, half of whom have Sunnyside ties, will vie for the title of Miss Yakima County come mid-March.
Sunnyside's Avalon Valencia, Rebeca Barrios, Joscelyn Martinez and Alyssa Fennell will compete in the pageant on Sunday, March 14, at 2 p.m. at Yakima's Capitol Theatre.
Carol Milliron, Executive Director of the Miss Yakima County program, noted the program is in its third year. "Before that, for 20 years it was sporadic," she said. "There was Miss Yakima Valley, Miss Yakima Valley Sunfair, Miss Yakima. It's been sporadic at best for the past 20 years. There wasn't anything constant (in terms of) a program."
Sunnyside's Jensie Hernandez competed for the title of Miss Yakima County in 2008 and 2009. Because she's getting married this coming May, Hernandez can't compete a third time. Because of that, she opted to become a board member.
"This gives the board a new perspective by having someone who's competed for the title," Hernandez said.
Of the pageant, Hernandez said, "It's a stepping stone to Miss America." The March event is a scholarship pageant that's part of the Miss America program and the winner of the county program will qualify for the Miss Washington program.
"It's not an at-large program," Milliron explained. "You have to win a local title to compete at the state level." The state winner than goes on to participate in the Miss America Pageant.
Hernandez said the most intimidating part of the pageant is the interview with the judges that takes place behind the scenes.
"It's a big part of your score," she said. Of a contestant's platform, she said, "You have to really believe in it because one of these days you may have to make it happen!"
Of the judges, she said, "They're not really there to make you lose your nerve. They're there to test you to see how well you handle controversy and if they hit a nerve, they'll go into that, too."
The program this coming March will see two ladies win titles: Miss Yakima County and Yakima County Outstanding Teen. Milliron said previously crowned Miss Yakima County title winners have been given $1,000 in scholarship funds. The Miss Yakima County Outstanding Teen title winner competes for a cash prize as well as paid entry fees for the Miss Washington Outstanding Teen Pageant.
Also incorporated into the March 14 event will be the "Princess Program," which features girls age six to 10. "It's not a competition. It's a mentor program with the teen (candidates)," Milliron said. "They're paired with a teen candidate who can take them to pizza, chat on the phone. Establishing a relationship with the princess is the goal."
During the Miss Yakima County Pageant, each young princess will get crowned.
In terms of talent, Milliron said the county pageant can bring out the best of the best. "There's always singing, there's always dancing," she said. "There are a lot of different things you'll see."
Cost to attend the pageant is $15 at the door, and tickets are also available for purchase from each candidate.