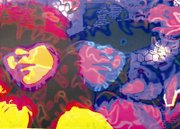 GRANDVIEW - All Grandview High School's Chelsea Meyer needed to unleash a burst of fresh inner creativity was a Photoshop challenge issued by a friend via Facebook.
That was the impetus behind Meyer's award winning "In Contradiction," a photo Meyer tinkered with just enough to claim top honors in ESD 105's Regional Art Show. She now advances to OSPI's Superintendent's High School Art show later this spring.
"This is my fourth year of entering and this time I placed, finally," said the GHS senior, sounding pleased.
The same friend who declared the challenge is featured in the photo, Meyer explained. The day after editing it in Photoshop, she presented it to GHS art teacher Mike Manship.
"I showed it to Manship the next day and he told me to start messing with it," she said.
Under Manship's tutelage for the past four years, Meyer's learned a significant lesson: art reflects individuality and will still exist once its creator has died.
Meyer said it's especially true of "In Contradiction." The digital imagery was created during a time she felt stressed and overwhelmed with her senior year. "Senior year is just so busy," she explained. "The yellow person (in the photo) is outgoing, aggressive. The person in the blue background is more passive, it's a cool color, because at home we're really laid back."
And what about the pink? "The pink is just because of the vibrance of it, it pulls it all together," she said.
Meyer, currently mulling a career in teaching English and photography, is eyeing a few different private art colleges, but is particularly eager to hear back from Central Washington University.
In the meantime, she's got the State art show to look forward to, which will feature artwork from winners across Washington.
Meyer's work will be featured at the OSPI building, which is the Old Capitol Building in Olympia, beginning April 6.