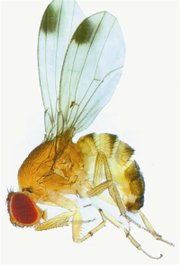 PROSSER - A new pest with the power to destroy fruit as it ripens may very well be headed this way.
That's according to Gwen-Alyn Hoheisel, WSU Extension faculty member who spoke at Thursday morning's Grape Fieldmen's breakfast meeting in Prosser.
The pest in question is actually the spotted wing Drosophila (SWD), which has already been identified in Eastern Oregon.
"To me, there's no debate on this one," Hoheisel said. "There's a really good chance it's coming this way this summer."
Monitoring, she emphasized, is crucial. That's because within a week the grower can begin to see fruit that's pierced or stung.
According to information shared by Hoheisel and provided by Oregon State University, an adult Drosophila fly resembles fruit or vinegar flies.
Native to Southeast Asia, they've been found in California, Oregon, Washington and Canada, and don't appear to be too picky about which kinds of fruit to attack. Females insert eggs into ripening fruit via a large, saw-like ovipositor.
According to OSU, eggs hatch in as little as one to three days and maggots begin to feed, damaging the fruit.
Hoheisel said it moves in fruit that's being shipped. "That's what we've seen so far."
Hoheisel referred to OSU's recommended method for monitoring.
According to OSU, bottle-type traps hung near fruit or placed on the ground during or after the fruit season have lured adult flies. Bait attractants have included ripe bananas, strawberry puree, apple cider and yeast mixtures. The yeast mixture appears to be the most successful (one package brewer's yeast, four tsp. sugar and 12 oz. of water), according to OSU.
OSU recommends a large can or wide-mouth jar with a funnel placed inside (to prevent flies from escaping once captured) or a plastic Nalgene bottle with holes punched in the lid. Hoheisel pushed for commercial traps and OSU recommends McPhail, Omni and liquid Rescue Fly traps.
OSU recommends using a sweep net to evaluate the number of flies within a crop, with the grower sweeping close to a fruit-bearing canopy, as well as fruit that's fallen to the ground. When finished sweeping, the grower then dips the net into a bucket of soapy water to count the flies. Sweeping in the morning or at dusk produces optimum catch.
OSU cautions growers not to confuse this fly with the common vinegar fly or Western fruit fly.
According to OSU, the fly has a body length of two to three millimeters, features red eyes and yellowish-brown body that upon closer inspection sports brown bands on the posterior of the abdomen. Males have a small dark spot on the front edge near the tip of each forewing and two darkened bands on the forelegs. Females do not have the wing spot.