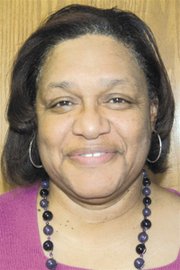 Anna Bullock, Sunnyside's new human resource specialist, brings more than 25 years of experience to her new position. And she hasn't missed a beat since she began work two weeks ago.
She has a lot on her docket. The position hasn't been filled in nearly three months and she is currently working on making sure everything is in compliance, which means putting everything in its proper place and getting a perspective on what needs to be done.
"Right now my biggest focus is on organization," she said.
Bullock said she wants to get things like worker's compensation under control. Who's on it and where are they at? She wants to get anyone that can, back to work as quickly as possible.
Bullock is also concentrating on filling job positions the city council has recently authorized with the 2010 budget. Tops on her list are police officers. There is also a code enforcement officer position that must be filled.
The city is going the traditional route by advertising the positions but Bullock said she is also interested in getting local colleges involved to help fill some of the entry-level positions with graduating students.
Bullock's experience is vast. She worked for the city of Richland for 17 years, starting out in customer service, working her way up to payroll officer and then finally settling in at personnel, where she performed human resource functions.
"The thing I love about human resources is we get to interact with the public as well as the employees," she said.
She explained that when a prospective employee comes in to the office to apply for a job, it is Bullock they deal with. If an employee has questions or problems, it is Bullock they come to see.
It's in this way she represents the organization she works for, in this case the city of Sunnyside.
Bullock also spent nine years running a medical practice in the Tri-Cities, which had 27 part-time or full-time employees and 10 doctors. There, she supervised the payroll, the human resource department, did the billing and oversaw the business direction for the company.
Bullock has also spent two years as the human resource director at the Bill McCurley car dealership in the Tri-Cities.
Another thing Bullock will be working on in Sunnyside, with new finance director Bryon Olson, is a salary data and benefits study. The two are in the process of rewriting job descriptions that are compliant with the Americans with Disabilities Act. This is imperative so a proper salary and benefits study can be accomplished.
Bullock has come to love the city so far in her short time here. She has met with all of the city's employees and has toured the city's facilities, adding that she is very impressed with both.
Working to gain the trust of the employees is very important to her.
"Accountability is important, training is important and confidentiality is important," she said. "Overall, trust is very important."
She knows there is lots of work to be done and admits it will take some time to accomplish everything, but she is ready for the challenge.
"What I can bring to the table is helping us to do our jobs better and more efficiently," she said.
Anna Bullock