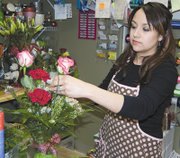 It's the busiest time of year, says Lindsey Canandoza, an assistant florist at Marti's Flower Carte in Sunnyside.
She's talking about the days leading up to Valentine's Day, Feb. 14, which is this coming Sunday.
"It gets pretty hectic," she smiled. "It's busy, but a good busy."
Canandoza, a Grandview resident, said the business is ramping up inventory for Valentine's Day. Though Mother's Day is also a huge day for the flower business, she thinks Valentine's Day might be busier.
"Valentine's Day always seems to stick out, it appeals to all ages," she said.
Canandoza's responsibilities at Marti's Flower Carte include doing flower arrangements, maintaining a website for the business and helping with ordering flowers and merchandise.
Speaking of merchandise, Canandoza says one of her favorite things about the business are the variety of flowers and gift items available for all budgets, whether large or modest.
The shop also features a nice array of potted plants, which Canandoza says keeps her busy with watering chores.
She says the most challenging aspect of working in a flower shop is working around the holidays.
"We have to give up our holidays," she said. "We can never fully relax because that's our busy time." She added, "But it's a good thing."
Her favorite part of the job is working with her mother, Marti Villanueva, who owns the business.
"She's good company," Canandoza said.
Also working at the shop is one of Canandoza's sisters, a bookkeeper. "It's definitely a family affair," she said.
Working for a family business has taught Canandoza to appreciate the effort that goes into running a shop.
"There's work behind the scenes that people really don't realize," she said.
Over time, Canandoza says she would like to get more and more involved in the flower and gift shop.
"Hopefully someday I can take it over and mom can work for me," Canandoza laughed. "I think she'd like the extra time."