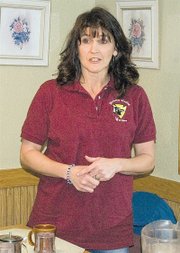 With the Yakima Valley Warriors' first football game of the season less than two months away, Wendy Culver, sponsorship and marketing representative for the team, gave a presentation about the Warriors to the Sunnyside Kiwanis Club this past Wednesday morning.
Owned by Mike Mink of Florida and coached by Lance Brown, the semi-pro inaugural Yakima Valley Warriors have joined the AIF Association, one of the oldest indoor arena football leagues in the country. The league has been around for four years.
Culver said the league plays an eight-man style of football and had its first try-outs last Saturday. More try-outs are expected, Culver said. The team is expected to have a 40-man roster by the time the season begins, when the Warriors will host the Wenatchee Valley Venom on Saturday, April 3, at 7:15 p.m., in the Yakima Valley SunDome.
The teams will play on a 50-yard field inside the dome, which will put the crowd almost right into the action.
"It's a very in-your-face game," Culver said. "The field is only 50 yards so it's very fast and sometimes very rough."
She said Yakima County Grid Kid football teams are also welcome to play at the dome on the indoor turf. Culver said it is the goal of the team to have Grid Kid games before the Warriors play. The cost to each team would be approximately $85, she said.
Cost of attending a game is $5 for a general admission ticket for military personnel, youth and seniors. It will be approximately $8.50 for adults.
The Warriors are also offering season ticket packages. One such package, called the Warrior VIP package, sells for $328. This package includes being welcomed by the Warrior Dance Team and enjoying a pre-game buffet and soft drinks. A no-host bar will also be offered. Ticket holders of this package will also be able to hear the pre-game talk Coach Brown will give to his team, plus any halftime adjustments he will make. Game stats will also be given out to Warrior VIP package holders, as well as final stats.
Several other packages are offered, as well.
Culver said the Warrior players are paid $200 for each game played. There are seven home games scheduled for this season.