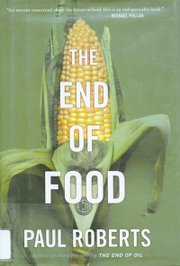 Author Paul Roberts has provided a look at where agriculture is headed, from farming practices to the economics associated with the world's food supply, in The End of Food, published in 2008.
He addresses issues, such as food-borne illnesses and the instability of the food system due to its reliance upon legislation, economics and population growth.
Roberts has researched this book in-depth, gathering information from an abundance of resources spanning the globe. He has spoken to individuals like Sunnyside's Rod Van de Graaf and consulted documentation published by health organizations, as well as other experts on the food system.
The book is broken down into three parts and 10 chapters, with a lengthy, but informative prologue and an equally interesting epilogue.
Roberts details his sources in the back of the book to provide readers the opportunity to check his facts.
The first chapter of The End of Food addresses how animal populations may adversely be affected by industry, as well as how the human population has evolved historically from hunting to farming.
Farming, says Roberts, was necessitated by population growth. The world required a greater abundance of food and farming met that need. Industry has also created a greater need for farming as supplies have had to match demand.
Roberts traces farming and its origins back in history before addressing the modern day transformations associated with today's practices.
He attributes globalism to preventing an "Armageddon" in the early 1900s, citing railways, shipping routes and preservation techniques as ways in which free trade was established, helping feed populations worldwide.
Because the U.S., dating back to the 1850s, was unable to consume all that was produced by farmers, the nation became dependent on other countries for its exports.
As the world's population continues to grow, farming practices must change to meet the needs of the people.
Farmers have had to address these needs, producing more at lower costs due to industry giants like Nestle bargaining down prices, according to Roberts' research.
Farmers are also in great competition with one another. The author writes, "If he (a farmer) raises his per bushel price by even a fraction of a cent above the market price, buyers will simply go to his competitor."
In chapter three, "Buy One, Get One Free," Roberts analyzes the profound impact Walmart has had on the food system and grocery retailers.
"Unable to match Wal-Mart's radically lower cost structure, many traditional grocers either went out of business or merged with other chains..."
Six retailers now control the grocery market, including Walmart. Twenty years ago, however, the top six retailers controlled only one-fifth of the market.
Legislative issues, too, are addressed in The End of Food. Robert shares how a proposed ban on high fructose corn syrup in 2006 would have cost both the food supply and farmers.
He shares corn growers would have had less demand for their crops and companies using corn syrup in products would have also been negatively impacted.
Public health officials were in favor of the ban, but both industry and farmers were against it.
Health officials were, and still are, concerned about the growing obesity rate and have launched campaigns to both discourage consumption of many foods eaten and to introduce legislation regulating foods consumed.
Obesity, however, has had other effects on industry. "Our infrastructure is being redesigned for larger, heavier users," writes Roberts.
He addresses health concerns and legislative issues in chapter four, "Tipping the Scales."
In chapter eight Roberts spoke with Van de Graaf, analyzing how the ebbs and flows of various markets affect one another. At the time of the interview, corn prices were skyrocketing and Tyson had a shutdown.
The high cost of corn directly affected the cost of raising the cattle grown at Van de Graaf Ranches and the shutdown of Tyson prevented the ranch from selling in a timely fashion.
Van de Graaf Ranches is a small, but vivid example of how biofuels greatly impact animal growers throughout the nation.
Roberts also details practices of today's feedlots, using the Sunnyside ranch as an example, citing a four-month time span in which a feeder calf is ready for slaughter versus the two years traditional grass-fed cattle take.
The End of Food is an informative look at the realities associated with the food system. It shows how making, marketing and moving food worldwide is becoming more difficult.
New health risks, legislation and industry have a greater effect on the system than many choose to realize and Roberts addresses the concerns of all affected by the food system.
I think anyone concerned with the food system would find this book to be a helpful and insightful resource.
The End of Food is available at the Yakima Regional Library or can be purchased online for $16.38 or less (Amazon.com).
Roberts, a resident of Washington state, also has a website for the book (www.theendoffood.com), the second of two books he has written.
- Jennie McGhan can be contacted at 509-837-4500, or email
JMcGhan@DailySunNews.com