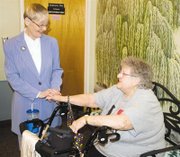 Basic white walls and color coded uniforms were standard procedure when Mary Arthur began her duties as administrator for Hillcrest Manor and Rehabilitation Center in Sunnyside.
Friday, Feb. 26, will mark Arthur's 25th anniversary at Hillcrest and much has changed during the past quarter century.
"In 1985, nursing home corporations prided themselves on being as hospital- like as possible, white walls, shiny floors and all rooms looking exactly alike," she said. The sterile environment went so far as to have hotel like pictures on the walls and all staff in formal uniform. Patients were told how to spend their day.
That was then and this is now, though, as Arthur says the corporations have learned that elders do best when they are in an at-home like environment.
The bottom line, she says, "is caring for the whole person physically and spiritually." To that end, when patients go to Hillcrest for short-term rehabilitation stays, they are also assisted in making appointments with their eye doctor and dentist. That includes taking the patient to the appointment and being with them while they wait to see the doctor.
The changes are evident at Hillcrest as "the walls are no longer white, but multicolored depending on the desire of the elders who live in the rooms," Arthur said. "The rooms are decorated with family photos and the sound of birds can be heard through the building."
Under Arthur's guidance, Hillcrest has taken further steps to create a welcoming environment, with wall murals and hall corridors with hometown signs.
The manor also has therapists on staff, so if someone has to enter on a Friday for therapy the person can start their therapy that very weekend.
The change even includes the food elders receive. Sweet treats look just the same whether they have or do not have sugar, Arthur said, and there's even a cotton candy machine on hand.
And it's not just Hillcrest that's changed over the years. Arthur noted the state is also changing how it reviews facilities like Hillcrest.
Instead of interviewing just staff, a new auditing program Hillcrest recently joined now evaluates the manor by interviewing residents about their experiences there.
Hillcrest is one of just two centers out of 35 in central Washington to participate in this new type of survey.
Arthur credits a new national movement that's also employed at Hillcrest called the Eden Alternative to improving the lives of elders.
Eden, she says, "determined that care givers needed to move beyond regulation and needed to nurture the spirit of the elders that we serve by bringing life into their environment."
Arthur says she is tickled to be a part of the 360 degree change in perspective at Hillcrest.
"Not all facilities have achieved this full change," she says. "However, they have no choice because we the baby boomers insist on making our own decisions about our lives, whether we live in our homes or we live in a home."
The staff and residents at Hillcrest will throw a 25th anniversary party for Arthur on Friday, Feb. 26, from 2:30 to 3:30 p.m.
Arthur says her key to doing so well for so long at Hillcrest can be attributed to staff loyalty, most of the department heads have been there for 15 to 20 years or more.
She also says her approach to Hillcrest and the nearly 50 years of experience she has working for and administering care facilities isn't that it's a job or career. Rather, she smiles, it's a calling.
"This is not a job, it's a mission," she says. "It's a calling of God and I enjoy the call."