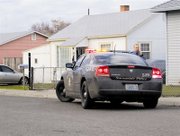 Jose Acevedo, 22, of Sunnyside suffered non-life threatening injuries as a result of a bullet hitting his leg in a shooting incident that occurred at approximately 6:40 a.m. this morning (Wednesday) in the 1000 block of South 10th Street, according to Sunnyside police.
Police responded to the call and are still investigating the incident, but were told a van with tinted windows was involved.
Officials said preliminary information provided to them indicates the victim was walking down the street when several shots aimed in his direction were fired from the van.
Acevedo was treated and released from Sunnyside Community Hospital this morning.
Witness statements, as well as a victim's statement, were still being taken as of press time.
Sunnyside Police Department officials said further details will be forthcoming, but anyone with information that might lead to a suspect, suspect vehicle or other information regarding the incident is asked to call 836-6200.
In other news, an apartment manager told the Daily Sun News last Saturday morning's shooting incident resulted in bullets striking two apartment units at the Meadow Apartments in the 1400 block of South Sixth Street just after 1:30 a.m.
The apartment manager said one bullet traveled through a window and two walls before stopping in a second apartment.
Two bullets, he shared, struck the complex, and one of the apartments struck was occupied by a mother and her young child.
The apartment manager plans to speak with police regarding the incident, and he said the problem is ongoing, involving suspects with whom the police have had prior contact.
The Sunnyside Police Department is still investigating the Saturday incident and officials said concerns regarding the incident will be addressed at the conclusion of the investigation.
22-year-old man shot early this mornin