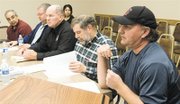 GRANDVIEW - With the resignation this month of City Administrator Scott Staples, some Grandview City Council members are questioning whether a replacement should be hired.
A discussion about city administrator recruitment was on the agenda during council's regular meeting last night, Tuesday.
With the city's department heads currently picking up the slack after Staples' departure, Councilman Jesse Palacios said he felt they should continue to do so through the end of the year and postpone hiring an administrator.
Mayor Norm Childress responded that not hiring a replacement would result in a mess at city hall.
"Without order you have chaos," Childress said of the need for someone to run the city's day-to-day business. "The citizens of Grandview deserve the best government we can give them."
Palacios replied that most of the city's success has been due to its department heads.
Mayor pro tem Pam Horner countered that the millions of dollars in grants Grandview has received for upgrades is due to the fact there was someone pulling together the city's efforts.
Councilman Javier Rodriguez agreed with Palacios.
Councilman Mike Bren thought the replacement process was moving too fast.
Childress shot back that he felt the process was moving too slow, that he's fielded questions from several residents frustrated at the lack of movement towards hiring Staples' replacement.
Childress also reminded council that as mayor it is his call to hire a city administrator.
Council then agreed with a suggestion by Bren to hold a retreat next month to discuss the administrator vacancy, as well as budget and other issues. The retreat is Tuesday, March 9, from 9 a.m. to 3 p.m. at the Vineyard.
Palacios said he was "dead set" against hiring a city administrator this year because the city could save $100,000 and apply it to projects such as the library and community center buildings it is committed to.
After Childress said he was biting his tongue regarding a response, Palacios left the council chambers even though the meeting was still under way and an executive session followed the meeting.
Palacios later said he left as a way to ease tensions in council chambers.
In related business last night, council held a study session prior to the meeting to hear updates from department heads in the wake of Staples' departure.
The police and public works departments talked with council about their efforts in combating graffiti.
Police Chief Dave Charvet said his department received 56 calls related to graffiti in a two-week period, while Public Works Director Cus Arteaga said his department spent $3,000 in just one month on graffiti removal.
Charvet said 11 people had been arrested because of graffiti, but because they are juveniles there's little the city could do.
As a result, council and staff agreed to look into the possibility of taking the parents of the offenders to small claims court for financial restitution.