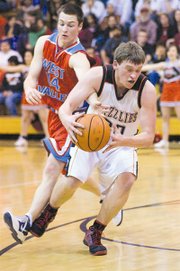 The Sunnyside Grizzlies boys basketball team overcame a fierce first quarter push by West Valley last night (Tuesday) to beat the Rams 75-54, winning the last regular game of the season before starting District play on Saturday.
The Grizzlies shot 47 percent from the floor and a blistering 89 percent (17-for-19) from the free throw line to fight off a strong challenge West Valley threw down in the opening period.
"West Valley came out hot in the first quarter," Sunnyside Coach Ron Rowe said. "They hit eight field goals in the quarter."
The hot shooting by the Rams allowed them to take a 20-14 lead heading into the second quarter but the Grizzlies were able to settle down a little.
"Our defense played a little stronger and we took away some of their plays," Rowe said. "We were able to climb back to within two points at halftime."
Trailing 30-28 to start the third period, the Grizzlies went on a 14-0 run and outscored the Rams 23-8 and held a 51-38 advantage heading into the fourth quarter.
"We did a very good job defensively in the third and that was pretty effective for us," Rowe said.
Sunnyside was able to create turnovers off its press and Rowe said that began to disrupt West Valley's offensive sets. The Grizzlies' James Sanchez, Israel Manzo and Jordan Esqueda all contributed to Sunnyside's 14-0 run to start the second half.
Key to the third period swing was Sunnyside's bench play. Rowe said the Grizzlies were able to get good bench participation and still maintain their defensive play.
Manzo took his team on his shoulders in the fourth quarter, scoring 14 of Sunnyside's 24 points to seal the game.
"Offensively we did a good job of moving the ball, which created some openings," Rowe said. "We had a lot of good looks at the hoop."
Manzo led the Grizzlies with 19 points in the game. Alfredo De La Barrera finished with 15 points, grabbed six rebounds, dished off two assists and made two steals. Jacob Bos recorded 14 points and grabbed five rebounds for the Grizzlies.
Esqueda dropped in 10 points for Sunnyside and recorded five assists and three steals. James Sanchez added nine points. Andrew Daley had four points and two steals. Chance Graff added two points, four rebounds and two assists. Jesse Leija finished with two points.
West Valley was led by Taylor Berndt with 14 points. Austin Strock followed with 10 points and Josh Lange added nine points for the Rams. Casey Croshaw finished with six points for West Valley, and Steven Wagar and Tanner Albrecht each had four points. Garrett Olson had three points in the game and teammates Tyler Cluff and Robert Borchert each added two points to West Valley's total.
The win gives Sunnyside a 14-6 regular season record and the Grizzlies finish with an 8-4 record in the CBBN Columbia Division. Sunnyside has the No. 1 seed to the District tournament and will host the winner of Friday night's game between Hanford and West Valley on Saturday, Feb. 20, at 7:30 p.m.