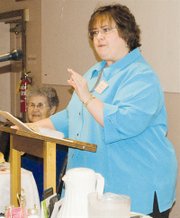 PROSSER - Everybody knows that classic movie line, "Life is like a box of chocolates. You never know what you're gonna get." But if you think this saying from the 1994 film Forrest Gump is just Hollywood Fancy and has no significance in real life, Candy Troutman would kindly disagree.
Troutman, the guest speaker at the Lower Valley Christian Women's Connection luncheon this past Tuesday, spoke about her own "chocolate" surprises in life and how God's hope and love helped her endure life's obstacles.
Troutman revealed she came from a "ragamuffin" family. The oldest of five children, Troutman was raised in a house that was wounded with spousal abuse, neglect, and poverty. Troutman took on a motherly role to her four younger siblings. Every morning she would chase away rats from the kitchen, build a fire, and ensure they had breakfast before seeing them off to school.
Her biggest concerns as a child were not those shared by other children. While those children might have been annoyed by siblings, Troutman had to watch hers, ensure they were safe and where they needed to be, that they had dinner to eat and were not bothering adults.
In later years, Troutman found the affirmation she craved by being the best and most loved. She thought that if she sang and played piano, brought home good grades, volunteered for everything, helped fix others' problems, and kept herself busy enough she would be rewarded with the very best chocolates.
Later, Troutman married her high school sweetheart and had two children. Being such a busy woman, with committees to chair and a job to attend to, Troutman found herself resenting her children. Knowing this made her feel awful, but an even more withering feeling came later, when she learned how wasteful and selfish her resentment had been. Then she had begun to feel guilt. And that guilt filled her with doubt and anger.
"Who I really was and being happy with that got lost over the years," she recalled, "And the chocolates of life, well, I didn't have time for that."
But Troutman had a bright tool from her troubled childhood she could call upon to help her: grandparents. Having lived with her grandparents for two years as a child, and later spending her summer vacations from school at their home, Troutman learned everything she would ever need to know to overcome her troubles.
Drawing upon her fondest memories of those times, Troutman recalled what she learned about life and love. Chief among them were the lessons her grandfather taught and the days she learned that God was alive, powerful and real. And because of this knowledge, Troutman never despaired.
In the years she raised her siblings, the life she lived filled with activity meant for fleeting approval, the guilt she felt for resenting her children, it was never devoid of hope because of what she learned in her grandparents' home in the beautiful Northern Idaho countryside.
Now, after all her hardships, Troutman can talk about them, free from fear of rejection or judgment, but ready to teach and show others that with God's love you are never alone.