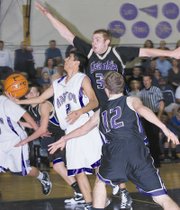 MABTON - The Mabton Vikings boys basketball team moved within one victory of a State berth when they beat the Columbia-Burbank Coyotes 60-52 last night (Tuesday) in the opening round of Districts.
The Coyotes opened the game with four quick points from Trevor Lott, who hit a jumper and a lay-up. But then the Viking defense put the pressure on and held Columbia-Burbank to just four points the rest of the quarter.
This allowed Mabton's Kristian Carrasco and Derrick Nash to get going. Carrasco and Nash combined for 10 points in the quarter as the Vikings led 14-8 heading into the second quarter.
Mabton Coach Brock Ledgerwood said his team lacked intensity to start the second quarter and the Coyotes took advantage of that to go on a 7-0 run.
"We shored up our defense after the first three minutes of the quarter and capitalized on our defensive stops and turning them into easy hoops," Ledgerwood said. "We finished the second quarter on a 6-0 run in the last minute and a half to take a nine-point halftime lead."
The Vikings led the game by eight to 10 points for most of the third quarter but Columbia-Burbank answered with a 5-0 run to close out the third, which cut Mabton's lead to six points, 41-35.
"Even though they (Columbia-Burbank) picked up the scoring in the second half we seemed to have an answer every time they would cut into our lead and would build it back up," Ledgerwood said.
The Coyotes' Neal Schuck cut Mabton's lead to just five points with five minutes left in the game when he hit a three-point shot. Carrasco then answered that with a three-point shot of his own on the next possession.
Columbia-Burbank went to fouling the Mabton players towards the end and the Vikings struggled, going just 2-for-10 from the charity stripe down the stretch.
"We have to focus and hit our free throws down the stretch to protect our lead," Ledgerwood said. "We were fortunate that they were 1-for-9 (at the free throw line) during the fourth quarter and they didn't capitalize on our struggles."
Carrasco led the Vikings with 18 points, four assists and three steals. Tyler Herrera added 13 points and grabbed five rebounds for Mabton. Nash ended up with 12 points and six rebounds. Josh Sanchez added eight points. Carmen Johnson had eight points and nine rebounds. Jesus Huecias finished with one point and six assists.
Columbia-Burbank was led by Chad Davis with 13 points and seven rebounds. Dylan Smith added 11 points and Nathan Roberts had 10 points for the Coyotes.
"Our defense was solid for three quarters," Ledgerwood said. "We then got caught up into a faster paced game that led to more points for both teams. We were able to answer their hoops with lay-ups against their press, but we must do a better job finishing a game defensively and at the free throw line."
Mabton (14-7) will play Riverview High School in the District semi-finals on Friday, Feb. 19, at 8:15 p.m. at Zillah Middle School. The winner of this game earns an automatic berth to the 1A State tournament in Yakima beginning March 3. Riverview defeated Mabton by 15 points back in mid-December.
"They are a guard oriented team that causes match-up problems, often playing with four guards," Ledgerwood said of Riverview. "They shoot the ball well and play an aggressive zone defense. We will have to be ready with poise and control and (be ready) to battle for 32 minutes. With a State berth on the line, we have to leave everything we have on the floor."