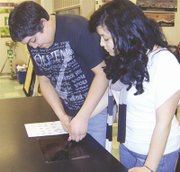 Perhaps instead of calling it class, SHS students might be leaning toward referring to their science class as CSI: Sunnyside.
For the first time in history, the high school is now offering forensic science, and so far, it's working like a charm.
With the help of Sunnyside Police Explorers, students recently got to fingerprint the "bad guys," themselves.
"Everyone got to fingerprint themselves and then identify their own fingerprint traits and characteristics," said teacher Teri Alvarez-Zeigler.
Students are currently learning the Henry Fingerprint Classification System. "They're going to calculate their own classification," said Alvarez-Zeigler.
Not only that, she added, but students will also bring in prints they've collected, and identify traits, characteristics and calculations on those, as well.
Soon, she added, students will study the art of lip-printing.
"This all blends in together with what we're going to be doing with forensic science," she said.
Alvarez-Zeigler said response so far to the forensic classes taught by herself, Joyce Stark and Gina Hopkins has been tremendous. "It's been really good, very good," she said. But she did add that sometimes it's been more work than they anticipated.
Stark masterminds most activities, like when students had to figure out a dispute between two neighbors over a contaminated aquifer.
Alvarez-Zeigler said of the forensic science classes, "I think people need to realize it's a real science," she said, noting it explores other sciences, like chemistry, genetics and physics.
"It's not your typical science, but it's a different way to learn," she said. "It's inquiry-based science."