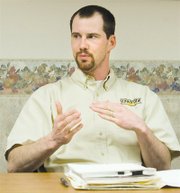 The Sunnyside Municipal Airport Advisory Board met for the first time last night, Wednesday, where board members selected a chairman and discussed things they would like to see done at the airport.
The board is made up of two members from the city, two members from the Port of Sunnyside and four members from the public.
At last night's meeting, the city was represented by Sunnyside Mayor Jim Restucci and Sunnyside City Planner Jamey Ayling. Amber Hansen and Jay Hester represented the port and Randy Schuler, Larry Dolan, Jon Smiley and Ted Durfey were on hand to represent the public.
At last night's meeting a chairman and vice-chairman were selected by board members. Dolan was named chairman and Hansen will serve as vice-chairman.
Ayling, filling in for Sunnyside City Manager Jim Bridges, gave a report on tie-down fees at the airport.
This deals with airplane owners who might keep their planes at the Sunnyside airport but not in a hangar. The planes are just tied down.
Currently there are no fees charged to people who tie down their planes. Ayling said the city is in the process of completing a comprehensive study to see what other airports in comparable size to Sunnyside's do. The city also has no idea how many people use the airport and how many people actually tie-down their planes.
"We're in that phase of gathering information," Ayling told the board members.
As for the hangars at the city airport, there are at least seven different leases that vary in the amount paid. Ayling said the lease amounts range from $240, $550 up to $1,840 a year.
"Some are current, some have expired," Ayling said.
Dolan asked Ayling if there were any airplane owners at the airport who weren't paying their dues. Ayling said he didn't' think so but said that should come out while the city is gathering information.
"As far as I'm aware right now everyone out there is legal," he said.
Another issued discussed was parking fees. Sunnyside doesn't currently charge for a plane to be parked at the facility.
Durfey suggested using a number system to designate parking places so things would be clearer. Durfey also urged the board to be cautious in setting fees higher than surrounding airports.
Both Durfey and Schuler also inquired about getting a weather system at the airport and also a GPS system.
The board spent a long time discussing things that they would like to see at the airport. Topics included hiring an airport manager and having a shuttle service.
For now, however, the board is going to concentrate on getting a handle on parking and lease fees. Board members will be given a report on what it would take to bring in a weather service and a GPS system, as well, at the next airport meeting.
The board is required to meet quarterly but board members say due to the amount of work that needs to be done, they should meet more often.
The next meeting of the airport advisory board will be on Tuesday, March. 16, at 6:30 p.m., at the Port of Sunnyside boardroom.