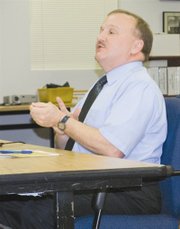 A "complete and thorough analysis" of the Sunnyside School District's organizational structure was recently completed, and Superintendent Dr. Rick Cole last night shared what the results of that analysis at his State of the Schools address.
He said there have been numerous changes in the school district over the past five years, with a goal of improving curriculum and instructional practices. Those changes, however, have not been enough because 100 percent success, said Cole, is the only option and the school district has not yet met that goal.
He said the Office of Superintendent of Public Instruction and the Summit District Improvement Initiative will help the district make its vision a reality.
"While I have witnessed great gains in the past five years, we are obviously not where we should be in terms of student test scores and graduation rates," Cole shared.
The school district is working on aligning its work in reading and math. It will be publishing a comprehensive K-12 curriculum guide to be used throughout the district.
The analysis of the district identified gaps in the curriculum and Cole believes the curriculum guide will eliminate those gaps to further student success.
The school district, he shared, also wants to expand its focus to ensure the quality of instruction provided to students in Sunnyside schools.
Cole said the district learned via 1,600 walk-throughs completed this past week there are three things called for, including the reorganization of the district's administrative structure, establishing an inclusive district leadership team and refining the district leadership meeting structures.
"This will require the roles and responsibilities of our district staff to be redefined and clarified," said Cole.
The school district will be looking to post a chief academic officer position for teaching and learning. The superintendent said the posting will be made immediately.
He said the English Language Learners/Bilingual Director position will be made a full-time position, and district reading coordinator and math coordinator positions will need to be created.
The district will also need to establish a parent advocate position in each school building, as well as reorganize home visitors so that the families they serve will have needs met more efficiently.
Cole continued, stating the study shows he must ask the Sunnyside Education Association to help him re-draft the evaluation process for educators in the school district to ensure student academic achievement is part of the discussion.
"We also must create a cumulative exam for pre-kindergarten, kindergarten, fifth grade and eighth grade students," he shared.
Cole said the Sunnyside School District will consider applying for a national school improvement grant to improve the high school graduation rate, which was historically between 60 and 70 percent. PRIDE High School, which closed two years ago, had a graduation rate of approximately 20 percent, said Cole. Those students have since been incorporated into the regular high school.
The WASL graduation requirement, he shared, proved difficult for alternative students and graduation rates dropped, especially for alternative schools statewide.
Because PRIDE students struggled with the WASL, the Sunnyside School District opted to place students there in intensive academic intervention programs at Sunnyside High School. The move has shown to be successful and the programs were recently acclaimed as models for the rest of the state.
A consequence of placing alternative school students back into a comprehensive high school, said Cole, is a drop in the graduation rate.
Of 400 students entering the ninth grade, he shared, 250 will pass the proficiency exam required by state law. Until this year, that was the WASL. Now, students must pass the High School Proficiency Exam that is being implemented this spring.
Students in primary school will take an exam referred to as Measure of Student Progress, instead of the WASL.
Of an original class of 400 freshmen, there are varying programs the 150 students not passing proficiency exams and graduating may or may not be involved in. Cole said an average of 20 students will obtain a GED, hurting the graduation rate. Another 10 students on average may be admitted into the Choices program, another 30 will be in intensive drug and/or alcohol treatment.
"Eighty students at SHS are currently in need of intensive drug and/or alcohol treatment that is equivalent to day reporting like Sun Down M Ranch," Cole said.
Another 60 of the original 400 freshmen on average will be in credit retrieval, 20 will go into contract-based learning and 10 will be in the Transition Program, said Cole.
"These are all our students...they are Sunnyside students...we can do better, we must do better," he said, stating it is important to recognize each of the students, no matter what programs they opt for, are students the school district needs to help.
"Of those who do graduate, the success is exemplary...we know our successful students go to Stanford and other great universities, but we must recognize we haven't done well enough," Cole stated.
Last year, Sunnyside High School's on-time graduation rate was at 59.8 percent.
Cole said the school district must meet 60 percent or better this year, or it will not have a choice as to which model the state chooses for Sunnyside High School restructuring.
This year, the school district is taking steps to reorganize and improve its graduation rate.
There are four federal models to choose from, according to the federal government. The school can be closed, which is not an option in Sunnyside; it can become a charter school, which is illegal in Washington; the school can be a turnaround school, meaning the principal is reassigned and so is 50 percent of the staff; or the school can be a transformation school, which involves reassignment and reorganization, as well as working with the teacher's union to make achievement part of the teacher evaluation process.
Sunnyside School District had the opportunity to choose the fourth model. Cole said the district would not have had a choice if it had waited another year.
Cole said the staff and school board are all knowledgeable and committed. He said the staff is clearly committed to the Summit District Improvement Initiative and he is confident in the district's ability to achieve success.
"We are in the middle of reorganization with a focus on improving achievement," said Cole, adding he believes a school improvement grant will go a long ways in helping the district meet its goals.