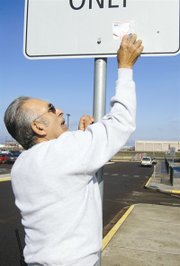 GRANDVIEW - Jimmy Carter was still President when Roy Montelongo started working as a custodian at McClure Elementary School in Grandview.
He's been at the school nearly 31 years and as of the end of March the 62-year-old will retire.
The long-time Grandview resident came to McClure after he had driven a truck for a Sunnyside firm.
He's been at McClure ever since, in good part he says because he enjoys a job where he doesn't have to work weekends or evenings. Also he enjoys the work atmosphere with the other McClure staff members.
"He's great," says Ginger Emerson, the McClure building secretary. "He's just fast to respond. There's nothing he won't do."
That's indeed true as any given workday might find Montelongo scraping graffiti off of school signs, or cleaning up a student's accident in a classroom.
He takes it all in stride as part of his job, which day-to-day also includes setting up the gym for breakfast and lunch as well as cleaning up the gym after the two meals.
Montelongo has seen a lot in his three decades at McClure.
Since he works so closely with the meal times, one of the changes he noted about students during that time is that they don't eat their food.
"They have good food here," he said. "The kids just aren't interested."
Sadly there have been more devastating changes that he's seen in students over the past 31 years.
"Up to 20 years ago there were no gangs at all," he said. "Now they're really bad."
The same is true with graffiti.
"Ten years ago it wasn't so bad," Montelongo said. "Now it's getting worse."
No doubt the biggest change Montelongo has seen at McClure is the new school building students and staff moved into in 2004.
The old school building was the brick building at the corner of Second Street and Euclid Road, which now houses Compass High School and administrative offices.
Among the niceties of a new school, Montelongo says, is less dust, less draft and much shinier floors. "The old building you could put 10 coats of wax on the floor and you still wouldn't get a shine," he said.
Of the new building he added, "Everything was new and we try to keep it that way."
Soon Montelongo will turn his chores over to someone else in keeping McClure like new.
He says it's time to retire because his wife is retired and he wants to spend more time with their nine grandchildren.
Montelongo says he plans to travel more in retirement, especially to the Oregon coast, as well as keep up with his hobby of wood working.
He also enjoys running and added that he'll still keep in touch with McClure even in retirement. "I'll be around," Montelongo smiled. "I'll volunteer as a reading coach."