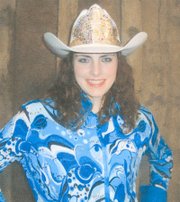 BICKLETON - Bickleton High School junior Katelynn Clinton started her reign as the rodeo queen for the Alder Creek Pioneer Picnic and Rodeo on Jan. 1, 2010.
Clinton, who is student body president, raises 4-H steers and competes in volleyball, basketball and track for the Lady Pirates is happy to add the title queen to her already busy schedule.
"I'm so excited about this opportunity!" she said. "I love my community and the picnic and rodeo are very important to me."
Presiding over the 100th annual Alder Creek Pioneer Picnic and Rodeo this June 11-13 requires quite a bit of planning and expenses, Clinton notes.
As a result, Clinton said she is in the process of talking to area business owners seeking their help with financial support.
"Each week I am contacting businesses, asking to set up an appointment to meet face-to-face with people," she says of sharing her year-long activities as rodeo queen.
Besides her involvement with the Bickleton picnic and rodeo, Clinton has a year-long schedule of fairs, rodeos and parades she'll attend between Selah and The Dalles, Ore.
Clinton, the sixth generation in her family to attend the picnic and rodeo, hopes to garner sponsorships through the face to face meetings and/or items that she can auction at her coronation on Sunday, March 7.
The coronation ceremony will be held at 3 p.m. on March 7 in the fellowship hall of the Bickleton Presbyterian Church.
The items Clinton will need as part of her year-long reign as queen range from a trailer and tires to a coronation dress and parade flowers.
All together, Clinton figures the clothing and equipment will cost a total of between $3,000 and $4,000.
For more information or to help Clinton with her fundraising, contact her at Bickleton High at 896-5473 or at home, 896-5620.