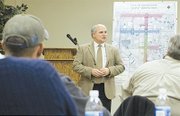 GRANDVIEW - A $4.8 million project to spruce up downtown Grandview is moving ahead with construction this spring.
That much we know.
Last night, Thursday, about 20 Grandview residents and business owners gathered to learn what the months of construction will mean to their homes and businesses.
"You have to crack a few eggs to make an omelet," Mayor Norm Childress told the audience, noting the construction progress will mean some inconvenience along the way.
At the same time, Childress said the final product will be worth the wait.
That's because the downtown portions of Wine Country Road, Second Street, Division Street, Third Street and Fourth Street will all be improved with new curb, gutter and widened sidewalks, planters, as well as decorative inlaid quartz tiles between storefronts and sidewalks, as well as benches, trees and lighting.
The idea, said project engineer Jeff Louman, is to make the downtown corridor appealing enough to coax people out of their cars and go for a walk to browse local businesses.
"People don't spend much money in their cars," he said. "You want to draw their attention and get them walking."
Part of the enhancement will be a big upgrade for a pedestrian alley between the VFW hall and Mahoney Building.
Landscaping, friendly lighting and even a mural are planned to make the corridor a welcome connection between downtown and a nearby public parking lot.
When completed, the improvements will look similar to those in downtown Yakima.
Louman noted workers will do their best to fill in trenches when they're done at the end of the day so people can access their driveways.
Louman and Public Works Director Cus Arteaga said there will be disruptions, such as breaking up the existing sidewalk, which will for a short time make it difficult to use the front door.
At the same time, the project will cooperate as much as possible with local business owners who have specific needs or time sensitive concerns, such as tax preparation between now through April 15.
Louman also asked for the public's assistance in keeping an eye out against potential vandalism to newly poured sidewalks.
Business owners and residents are encouraged to contact Arteaga Monday through Friday during regular business hours if they encounter problems with dust or other construction-related issues.
During evening and weekend hours, the public is asked to call the police and they will contact public works officials.
A construction office will also be set up at 307 Division.
Another planned improvement is an arch over Wine Country Road to honor Grandview's centennial.
The downtown project will be done in four phases, with streets paved after each phase is complete.
The first phase starts construction on March 15 on Wine Country Road from Grandridge Road to Ash Street. In addition, portions of Division, Third and Fourth streets will be included in the first phase.
Wine Country Road is the first priority so that work can wrap up before the fruit harvest starts.
The project will conclude sometime in August or September with a section of Division Street between Third and Fourth streets.
More like this story