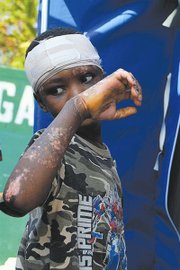 Dan and Sherry Haak are not strangers to the adversity the people of Haiti have endured over the years, but the couple was called into action late last month when Heartline Ministries asked the couple to assist in relief efforts following the Jan. 12 earthquake.
"We have a heart for Haiti...we have two adopted children from Haiti," said Mr. Haak.
The couple traveled from Washington to Ft. Lauderdale, Florida Wednesday, Jan. 27, and returned to Sunnyside Saturday, Feb. 6.
There, they met up with others associated with Heartline before venturing on to Port au Prince.
"We had been thinking of traveling to Haiti for a while. We wanted to assist with Heartline Ministries' housing complexes, known as crèches...I am a handyman and Sherry is a decorator...she is on the Heartline Ministries board and is involved in the organization daily," Mr. Haak said, stating the needs of the ministry grew as a result of the earthquake, thus cementing the need to help in any way possible.
The five crèches sustained little structural damage in the earthquake, but Haak said the security wall suffered greatly.
When Heartline Ministries founder John McHoul requested assistance, the Haaks were prepared for any number of services they might be able to provide.
The ministry had opened a hospital to care for those struck by the disaster in response to the needs in Haiti.
The hospital serves as a triage center and doctors from all over were brought to the center.
The Haaks traveled to the devastated country to personally assist McHoul and his wife Beth.
Mr. Haak first repaired several diesel-operated generators that were overdue for service, while Mrs. Haak began organizing medical supplies for the new hospital.
Mr. Haak also worked on several vehicles for Heartline and used his welding skills to repair perimeter gates. He also repaired much of the plumbing to help provide clean water.
"Sherry picked up broken things like dishes," said Mr. Haak.
"I did a lot of organizing to help establish a clinic that hadn't been there five days prior...I assisted in the delivery of a baby," shared Mrs. Haak.
The couple said many of the people they came in contact with were suffering and each day the ministry would send trucks into the "slums" to help those who were downtrodden reach the medical facilities. The Haaks said two truckloads of 25 to 30 individuals were brought to the hospital each day.
"Most of the individuals had not been treated until that point," said Mr. Haak.
"Many of them were suffering from infected wounds and burns," explained Mrs. Haak, sharing the earthquake occurred at dinner time. Because many in Haiti cook with hot oil, several suffered burns from the oil spilling, she said.
"A lot of children were severely burned," she continued.
The Haaks said they share a deep affection for the people of Haiti.
"Every time I go I gain a greater appreciation for what we have in America...especially now, after the earthquake," shared Mr. Haak.
His wife agreed, stating, "The experience affirms all the support we provide them (Haitians) is worth it and I believe there is more we can do...they are such a strong people."
Mr. Haak said the couple's two children root them in Haiti. "We are opened up to a different part of the world."
He said the devastation and destruction in the small country is unbelievable. "It was unlivable before, and now they are dealing with greater adversity."
The Haaks both shared their feelings about Heartline Ministries and its efforts to help the Haitian people.
"Heartline Ministries tries to be the hand of Jesus providing the people help," said Mr. Haak, stating Americans have emergency services and 9-1-1 when disaster strikes.
"Imagine having your house fall on you...you can only depend on yourself, your family and your friends...that is what those in Haiti had," he explained.
Mrs. Haak said the couple is planning to return to Haiti in April to assist with two cargo shipments being delivered.
Volunteers, she said, are always needed and individuals wishing to assist Heartline Ministries providing services, monetary support or to sign up for the newsletter can do so at heartlineministries.org.