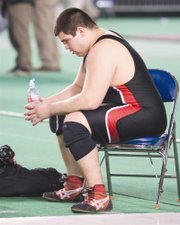 TACOMA - The Sunnyside High School wrestling program may have fallen short of last year's fifth-place finish at the State 3A wrestling tourney, but the Grizzlies still proved plenty competitive.
Overall, Sunnyside finished in 12th place as a team with 46 points. Yelm won the 3A tourney with 148 points, followed by Enumclaw with 142 points and North Central with 124.5 points.
The brightest point for Sunnyside came in the 285-lb. weight class, where Jose Barajas advanced to the championship finals before getting pinned in the title bout in just 46 seconds by Cody Treddenbarger of Juanita.
Prior to that, Barajas reeled off a series of pins over Kyle Rodarte of White River, D.J. Mason of Union and Koenrad Swartz of Sedro Wooley to advance to the finals.
Besides Barajas' runner-up honors, the only other Grizzly boy to bring home State hardware was Nathan Gonzalez (103 lbs.).
Gonzalez had posted a record of 39-0 heading into Tacoma this past weekend and last year's State runner-up was a contender to reach the finals again.
After pinning Dean Reginio of Timberline in his opening match, Gonzalez lost in the quarterfinals to Redmond's Aaron Garcia.
Undeterred, Gonzalez advanced through the consolation bracket by pinning Joel Wiley of Prairie and scoring a 7-3 decision over Tyke Reid of Auburn Mountainview. That set up a rematch with Garcia in the third-fourth place contest this past Saturday, where he again lost 3-0 to earn fourth place honors.
"He lost to the same wrestler both times," said Sunnyside Coach George Paulus. "The kid just had his number."
There may have only been two boys place for Sunnyside, but the other three State qualifiers all earned a win during the tourney despite falling short of the medal round.
Danny Almeida (215 lbs.) had a chance to potentially challenge for a medal after he defeated Brandon King of Camas 3-2, a regional champ, in Friday's opening round.
But an injury in his second match at State, an injury default to Thomas Yandall of Evergreen, cost him a medal bid.
Gerardo Villalobos (112 lbs.) earned his lone victory after losing the opener 8-6 to Matt Anderson of Auburn Mountainview. In the first round of consolation action, the Sunnyside wrestler rebounded by defeating Dan Velasquez of Liberty 5-0.
However, Villalobos lost the next match 6-0 to Jaren Novakovich of East Valley of Spokane to be eliminated from the tourney.
Sunnyside's other male wrestler was Adam Peters (285 lbs.), who lost his first round match 3-2 to Joseph Watson of Renton.
Peters then rallied with an 8-0 victory over Josh Ingebretson of Hudson's Bay, before getting eliminated in an 8-2 loss to Josh Stephens of Yelm.
Sunnyside also had a medalist in girls wrestling competition, as Amber Rodriguez (140 lbs.) earned third place honors when she pinned Kaylee Carr of Emerald Ridge in 4:09 in the third/fourth place bout.
Prior to that Rodriguez opened the tourney with a pin in 1:43 over Jashauna Adams of Chief Sealth, then scored an 8-5 victory over Kayla Ralstin of Bethel.
Rodriguez was pinned by Sarah Moquin of Sedro Wooley in the semifinals, before rallying for her win in the third-fourth place match.
In the girls heavyweight division, Sunnyside's Adelany Pacheco went 0-2 at the tourney, pinned by Allicia Llewellyn of Yelm in the first round and Emily Holboy of Burlington Edison in the second.
Paulus said the goal was for the Sunnyside team to finish in the top 10 at the tourney, but ended up just five points out of a top 10 finish in 12th place.
The schools just ahead of Sunnyside were Bellevue in 10 place with 51 points and Sedro Wooley in 11th place with 48 points.
"It's a little disappointing," he said. "I thought we had the potential to be a top 10 team, but we'll take what we can get."
And what Sunnyside earned had some significance.
"It's always good when you come away with some hardware and get a kid into the finals," Paulus said. "Hopefully next year we can get some kids in position to do it again."
To do that, Paulus said his wrestlers will want to focus on some off-season workouts.
"It's a very tough meet, very competitive, and you have to have your act together when you get there," he said. "Anything they can do to prepare for next year by working out or going to camp will help."
Paulus added, "They're going to have to put the time in, find opportunity to practice, anything to increase their experience."