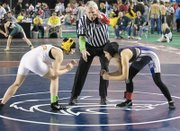 TACOMA - For an athlete qualifying for the State wrestling tournament it is always a little nerve wracking. When you're a freshman carrying the weight of being the only one representing your school, the weight can be crushing.
That was the situation young Mary Gutierrez of Mabton faced when she went to State this past weekend in Tacoma. The 112-pounder took a record of 14-3 and the No. 2 seed from the eastern region to Tacoma, but lost her first two matches on Friday to end her season and her hopes of bringing home a medal.
Still, the youngster gained valuable experience that should serve her well next season.
Gutierrez was pitted against Sedro Woolley's Andrea Iversen in the first round of State competition.
"She battled okay," Mabton Coach John Kilian said. "She was so nervous going in, but once she got going it looked like she was going to be okay."
Gutierrez gave up a takedown and was down 2-0 early when Iversen got her into a half nelson and was able to hold her down for a pin in 2:51.
The loss dropped Gutierrez into the consolation bracket where she faced Ivy Rodolf from Kingston High School.
"She made it into the second round this time," Kilian said. "Again, she was really nervous. She's a freshman and the size of the Tacoma Dome put the fear of God into her. There was a lot of pressure on her, but she got a taste of what State is like. I'm assuming she will be back at State next year."
Gutierrez was down 2-0 to Rodolf after the first round and chose the down position to start the second. Rodolf was able to get the better of Gutierrez and scored a pin in 2:29.
Gutierrez finishes the season with a record of 14-5.
"It was good to get there," Kilian said of Gutierrez's State appearance.
Kilian said his team is still very young and he plans on picking up the pace next season. Kilian said the Vikings will compete in tougher tournaments next season to better prepare his wrestlers for the rigors of State competition.