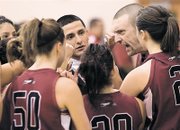 You have to fight to the bitter end if you want to win.
Grandview girls basketball Coach Paul Van Pelt has been drilling that in the Lady Greyhounds' heads all season, and this past Saturday night it clicked when they defeated Toppenish 54-49.
With a District berth on the line and 35 seconds to go, Lady 'Hound Payton Parrish stole the ball and scored from the outside to overcome a 47-46 deficit.
Working in tandem, teammate Gio Gomez went 2-for-2 from the foul line with 15 seconds left on the clock. With eight seconds left on the clock, Karissa Trinidad stole the ball from the Wildcats to seal the victory for Grandview.
"In the middle of the fourth quarter we were down 10 points," Van Pelt said. "The girls finally put forth some effort and got rewarded for it with free throws and some steals.
"This is what the CWAC is all about. Every single game is a tough game and you have to fight to the end to win."
Parrish notched a double-double, scoring 22 points and 21 rebounds for Grandview. Gomez tallied eight bounds, two rebounds, four steals and four assists, while Monica Wall scored contributed eight points and grabbed six boards.
The Lady 'Hounds finished the night 4-for-9 from outside the 3-point arc, and were 12-for-17 from the foul line.
This past Friday night looked entirely different, even though it was the same opponent.
The Wildcats clawed the Greyhounds 52-49 in overtime in what Van Pelt refers to as a "foul fest that sent both teams to the foul line 90 times."
The Lady 'Hounds had to fight to move the game into overtime, but just couldn't get their heads together. "We didn't have our heads in the game."
In overtime, Grandview was only 4-for-10 from the free throw line. They went 19-for-33 for the night and were 13-for-52 from the field.
"We made a lot of mistakes that hurt us in the end," Van Pelt said.
Friday's loss left both teams tied for the eighth and final spot into the District tourney. The play-off game victory on Saturday advances Grandview to play the Wolfpack in Wapato this Tuesday.