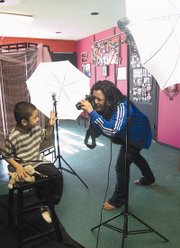 Hoping to help people document their 'barrio' lifestyles, sisters Madeline and Laura Alviso recently opened Firme509.com Studio in Sunnyside, located at 704 1/2 East Edison Avenue.
"Both me and Lala (Laura) love to take pictures," Madeline Alviso said. "Our fathers used to take photos of weddings and used to take Lala along. She learned to use the camera at a young age."
Alviso said she always admired Lala's style, which she calls 'barrio' culture.
This type of photography captures everything from graffiti, inner-city life and even the gang culture so prevalent in Latino neighborhoods.
Madeline Alviso likens her style to Chola pinup. The Chola pinup photos adorning the studio's walls feature girls wearing lots of make-up and showing lots of cleavage.
"Our photography is non-traditional," Alviso said. "We try to capture the culture they (customers) are trying to present."
The Alviso sisters began taking pictures of parties, weddings and at photo shoots when word started to spread about their style. Soon the Alvisos were in demand. So much, in fact, they decided to open their studio.
The sisters like to have their customers fill out a questionnaire.
"This allows us to get a feel for what they like," Alviso said. "Like what kinds of colors they want and the poses they are interested in."
A base package of photos and studio time begin at $69 and go up accordingly from there. Firme509.com Studio uses digital cameras but send their photos out to be printed.
Besides shooting for events and individuals, Alviso said she and her sister also take a lot of photos for musicians and their album art. The Alvisos will soon travel to L.A. to do some photo shoots with some Chicano rappers.
The sisters also want to empower area youth and have an open invitation for students to stop by their studio to learn and ask questions about photography.
"We're open to that," Alviso said.