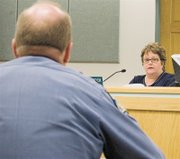 The Sunnyside City Council heard an earful of complaints from citizens at last night's meeting regarding safety in Sunnyside.
Fenn Shrader, a property owner in Sunnyside, urged the council to get tough on criminals in Sunnyside. He noted two shootings that emanated from 1418 S. Sixth Street that caused bullets to strike his apartments across the street. He said bullets penetrated the door of an apartment and broke two windows. One of the bullets, he said, fell on a bed with a child sleeping in it.
The occupants at 1418 S. Sixth Street have since been evicted.
Shrader said there has been at least six to eight incidents in the past year with gang violence, noting some of the culprits have been arrested. But since they are minors they are released within a few hours.
"I suggest the council pass an ordinance that when such incidents occur the adults responsible for the care of such minors should be arrested and placed in jail on felony charges as defined by an ordinance this council should draft and implement," Shrader said.
He warned property values in Sunnyside will suffer if something isn't done.
Mayor Jim Restucci told council members that he agreed with Shrader that it was time to act. He proposed creating a council committee to look at this issue and to find ways to help the police to combat issues like this.
Councilman Don Vlieger immediately volunteered. This was followed by Councilmen Mike Farmer and Paul Garcia volunteering as well.
The Mayor then ordered the public safety committee to be formed. The committee will work with the city manager and the police chief.
Council also heard from Martin and Peggy Beeler, owners of Sunnyside RV Park, who spoke to council about a dance hall near their park.
Martin Beeler showed pictures of people attending the dance hall urinating on Beeler's property. He also complained about trash, such as beer cans and bottles. He also claimed open drug use.
"I'm standing on my property and this is what I have to look at," he said.
He added that when tourists come to Sunnyside and stay at his park, this is also what they see.
Peggy Beeler also spoke about the problems with the dance hall. Traffic is non-stop and the noise can be overbearing, she said.
She said they are desperate and will do whatever the council wants them to do but they said that this problem has been ongoing for three years.
Talking isn't doing it, she said. Noise ordinances are being violated. The spinning of tires, sex acts and other things are happening, she said. She also claimed not one ticket has been issued at the dance hall in three years.
"We need your assistance," she said. "We want your assistance of what you want us to call in. We will do whatever we can to support you. Just let us know."
One possible solution talked about was having a commissioned officer on site during events at the dance hall.