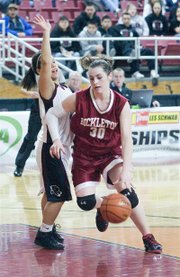 YAKIMA - In less than two weeks Bickleton's Katelynn Clinton will be crowned a rodeo queen.
This morning she wowed the SunDome crowd by becoming queen of the State 1B girls tourney single game scoring record, pouring in a tourney record 35 points to spark the Lady Pirates to a 50-35 win over Lummi in the State 1B Girls tournament opener.
Clinton and the Lady Pirates started slowly in Wednesday's game, though.
It was Lummi's Kyla Frajman who stole the show early with eight points, two blocked shots and two steals in the first four minutes to stake the Blackhawks to a 13-8 lead.
While the Lady Pirates struggled to find an answer for Frajman, Clinton and company had difficulty at the free throw line as the junior missed six of her first eight attempts at the charity stripe.
Lummi clung to a 13-12 lead after the first quarter and still led 17-15 midway through the second quarter when Frajman was whistled for her third foul and had to sit out the rest of the half.
Bickleton Coach Emily Barnhart said that was the plan all along.
"She's a good athlete and our goal was to get her into foul trouble," the first-year head coach said.
Once Frajman, who led the Blackhawks this season with a 21-point a game scoring average, left the game the middle seemed to part wide like the Red Sea for Clinton, as she scored nine of her 20 first half points in the final four minutes of the second quarter.
It was all part of an 11-3 run for Bickleton that put the Lady Pirates up 26-20 at the half.
"I was more relaxed, I'm always nervous at the start of a game," Clinton said of her game-changing surge that began in the second quarter. After her early spate of misses at the free throw line, Clinton ended up canning 9 of her last 11 attempts to end the game with 11-of-19 shooting at the charity stripe.
Jumpers and spin moves in the paint helped Clinton to 12-of-28 shooting from the field for the game.
Frajman had to play more relaxed in the second half because of foul trouble, especially when she picked up her fourth foul early in the third quarter.
Despite missing time due to foul worries, Frajman still managed 19 points, 17 rebounds, eight blocked shots (tying a tourney record) and three steals.
Bickleton, meanwhile, kept up its scoring momentum, as Aymie Osborne and Clinton scored back-to-back buckets in the first minutes of the third quarter to give Bickleton a double-digit lead at 30-20.
Bickleton led 35-26 after three quarters, then scored six unanswered points to start the fourth quarter.
The spurt was sparked by Nakai Kibby's lay-up, followed by consecutive buckets by Clinton, to put Bickleton up 41-26 with just six minutes to play.
The Lady Pirates couldn't rest easy, though, as Lummi charged back to within eight points, down 41-33 with three minutes to play.
Clinton, again, took charge, reeling off six straight points to put the game away with less than two minutes to play.
Barnhart says she's not surprised at Clinton's scoring prowess in smashing the old girls 1B tourney record of 30 points set by Tori Van Wingerden of Sunnyside Christian in 2007.
"She's a very strong competitor," Barnhart said of Clinton, who also set a record for most free throws made and attempted in a single tourney game.
And to think it wasn't even the junior's personal best, as last season she tallied 36 points in a game.
Clinton wasn't all about scoring, as she also recorded eight steals to go with 13 rebounds.
"It was amazing. It was a blast!" Clinton said of her first experience at State. "I can't wait to play more."
Playing more means a 4 p.m. quarterfinal date tomorrow (Thursday) with defending State champ Colton.
"It'll be very interesting for them to see what playing a State champion is like," said Barnhart. "The girls have to go out and play a perfect game."