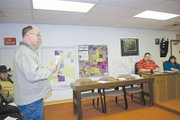 MABTON - Two engineering firms were interviewed by the city of Mabton for a project that would upgrade its wastewater management facility and the city council members were divided when deciding Tuesday with which firm to sign a contract.
The two firms included Spink Engineering of Richland and Gray & Osborne, Inc.
Mayor Angel Reyna during Tuesday's study session said he, Councilman Mario Martinez and Councilman Mark Gourneau all interviewed representatives of the two firms. He was most impressed with Gray & Osborne because he feels its staff will be able to focus on the city's needs.
"Spink has eight employees and Gray & Osborne has 150...both have offices nearby, but Spink might be stretched between projects when we need them," said Reyna.
Martinez pointed out another advantage Gray & Osborne has over Spink. "They have a chemical engineer on staff who can best develop a waste management plan for us."
He said the city has worked with Spink in the past and during a permit process with the Washington Department of Ecology stricter standards were imposed on the city's wastewater facility. "They were standards we were never capable of meeting...Spink should have argued better on our behalf and they never really provided an answer (during the interview) as to why they didn't fight for the city of Mabton," he shared.
Reyna advised the city council members they had to make a decision as to which engineering firm would best serve the city if it is to grow.
Both firms have experience working with municipalities in the Lower Valley, and, Reyna added, "Spink has done a lot of great things for us in the past, but I feel it is time to move on."
Gourneau added his opinion regarding the two firms based on the interview process and said, "Gray & Osborne came prepared to give a presentation...they had ready answers for us...Spink didn't seem as prepared."
Martinez agreed, sharing the firm arrived at the interview with a list of options as to how the city could possibly get off the Department of Ecology's 303(d) list, which is a list of water facilities with poor quality water.
Reyna also noted Spink does more subcontracting than Gray & Osborne because of its small staff. Therefore, he felt the city would be better served by a firm that has the staff that can address needs at the time the need arises.
Vera Zavala, the one council member adamant about her belief in Spink, noted she has been led to believe Gray & Osborne was relieved from its contract with Granger, as well as another small city in the region. She told those at the meeting she would like to know the reason.
Her dissent carried over into the regularly scheduled council meeting when a vote was put before the members.
Zavala and Councilwomen Sophia Sotelo and Oping Hutson wanted more time to review the questions and answers provided during the interview of the two engineering firms.
The mayor provided them the time and advised the council a vote was necessary Tuesday because of an upcoming visit being made by the Department of Ecology.
Reyna told council all questions posed to the two firms were the same, but follow-up questions were also included when needed.
Zavala, after reviewing the notes from the interviews, still was not pleased. "I knew before this meeting which way it was going to go," she said.
"I like Spinks and know how you and Angel feel about Spinks...but, if it ain't broke, why fix it?" Zavala asked of Martinez.
Because of her remarks, Martinez calmly asked her if she was questioning his ethics and integrity.
Zavala expressed her opinions, stating she believes her questions regarding Gray & Osborne should be answered. She stood from her seat as if she was going to leave during the heated debate over whether or not she was accusing Martinez of impropriety, but she sat back down without answering his direct question.
Once she settled down and the issue was brought to a vote, Martinez and Gourneau voted in favor of contracting with Gray & Osborne, Sotelo and Hutson abstained from the vote and Zavala voted against the firm.
"The motion carries pending review of our policy," Reyna said in light of the 2-1 vote. No one was certain which policy is used in the case of only three council members actually voting and the question of a needed third vote lingers.