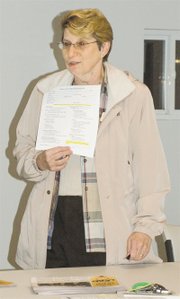 GRANDVIEW - The Yakima Valley Fair and Rodeo Board has welcomed four new members into the fold, but four positions remain vacant just six months out from fair time.
Bruce Matsumura and Craig Wentz share the member-at-large position, Kristi Myers is in charge of the 4-H division and school art exhibits and Michelle Mensonides handles the livestock sale.
According to Yakima Valley Fair and Rodeo President Becky Lloyd, volunteers are still needed to serve in the positions of secretary, public relations, awards and commercial booths.
Lloyd acknowledged the positions of public relations and commercial booths are instrumental in the fair's success because they organize what brings people through the gates.
The public relations person not only issues press releases highlighting the fair, but also lines up fair entertainment. The commercial booth director oversees entries and makes sure there are a variety of different booths to peruse.
Lloyd said she's already fielding calls from potential vendors as they work on their calendar for the year as she serves as fair board president and the livestock superintendent, which is a tremendous amount of responsibility.
"We sometimes have to wear many hats to make the fair a success," she said.
Matsumura and Wentz share the member at large position, which represents the rodeo.
For two people to share a position is unusual, but Matsumura and Wentz agree they knew they could help best if they did.
"Neither one of us wanted the full responsibility," Wentz said, adding he'd known Matsumura for years because they used to be neighbors.
Both men have rodeo backgrounds. Matsumura has served on a statewide board and Wentz used to be a rodeo cowboy.
"Our primary goal is to provide a rodeo that's good entertainment and operates in the black," Matsumara said. Wentz added, "We know what a good rodeo performance is and what a good rodeo is."
Mensonides said she first became involved in the fair because she knew Lloyd and assisted her with livestock duties.
"I just ended up doing more and more and more," she said. "I have two kids that are in 4-H and I did nine years of junior fairs and two years of county fair.
"I loved the fairs, I lived for the fairs," she said.
Being involved in the fair by submitting entries and raising an animal helped teach her responsibility, she said, adding that it also instilled pride and the satisfaction of a recognized job well done.
"I want kids to experience what I did," she said.
Kristi Myers was no stranger to the fair, she had been the dog show superintendent for years. She's hoping to continue that responsibility while serving in her role as the fair board director for the 4-H division.
Myers joined the board at Mensonides' suggestion.
"She asked and I said sure because my kids have been involved in 4-H in their primary (school years)."
Even though she's very new to the position, Myers, like the others, is determined to keep the fair going.
"I personally worry that so many traditions that have been around this community are going away and you don't want to see the fair bite the dust."
For more information about the vacant fair board positions, contact Lloyd at 303-9698.