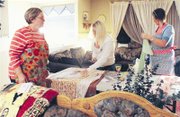 PROSSER - Being a farm girl is just a condition of the heart, it doesn't necessarily mean one lives on a farm. That's Rene Groom's mantra.
Groom helped form the Prosser chapter of Farmgirls, a sisterhood that delights in teaching and sharing traditional customs, like canning, tatting (making lace) and, of course, farming.
Prosser's chapter, which meets the last Tuesday of the month at The Barn Restaurant at 6 p.m., is 140-plus members strong.
Groom said the chapter meetings usually feature somebody who can teach the group a skill.
Skills range anywhere from making jewelry or chocolate to raising grass fed beef. "In fact, in March we have a retired home (economics) teacher talking to us about the history of aprons and she'll go into textiles."
One misconception about the group is that one must live on a farm or have been raised on the farm. That's just not true, Groom says.
The group is part of the MaryJanesFarm sisterhood, of which Groom is a coordinator for the area. The organization is worldwide, including countries like Brazil and France.
Stateside, Groom said, "We have (members) in upstate New York who live in a flat and grow tomatoes on their window ledge. We also have women who are second, third, fourth generation farmers."
There is even the MaryJanesFarm Sisterhood Program, which Groom said is much like a Girl Scouts organization for women where members earn badges through community service activities. "It can be anything from starting a recycling program to planting trees...anything," Groom said.
Recently, one community service activity was building a chicken coup for Lanie Schneider and her family. The young Sunnysider was facing a life threatening illness before mother Emily Golliday donated a kidney. Groom said when she learned from a pastor all Schneider wanted was a chicken coup, "I thought, shoot! We can do that!"
Classes have included composting, rug-making, knitting and redwork.
Groom said redwork, a primitive form of embroidery, is an American tradition. During the depression, when supplies were scarce, women would collect the red thread off of flour and feed sacks and repurpose it for decorative reasons. The actual bags the items like flour and feed came in were repurposed for children's dresses. People like to think repurposing is a new concept. It's not," she said.
Groom writes a column for the MaryJanesFarm.com website in which she offers up local highlights.
"I get to highlight stuff happening in our area," she said. "I think we're lucky that way, that we get to highlight so many of our brilliant, local farm girls!"
"We can learn a lot from the people who came before us, especially during the Depression," said Groom. "The things they did to make life more interesting."
The meeting regarding the history of aprons and apron textiles takes place on March 9 at the Quilted Country Inn in Prosser, which is located at 1108 Wine Country Road in Prosser.
For more information about the Farm Girls, contact Groom at 509-778-1494.