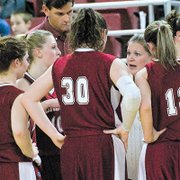 YAKIMA - Ask and ye shall receive.
Bickleton's Lady Pirates were hoping to get a match-up against a State-caliber team to gauge where their basketball program is currently at, and they learned there is room for a lot of improvement.
Facing the defending 1B State champion Colton Wildcats, who are also currently ranked No. 1 in the state, in Thursday afternoon's quarter-final game at the Yakima Valley SunDome, Bickleton's girls fell fell behind 20-1 before eventually succumbing, 76-18.
"Oh, man! That team is amazing," Bickleton Coach Emily Barnhart said of the Wildcats.
She explained her Lady Pirates took the court yesterday "with a deer in the headlights look," and left with the same expression on their face.
"That's not to take anything away from Colton. They're disciplined and they don't make mistakes, at least not very often," said Barnhart.
Colton was led by Haley Moser, who connected for 23 points on 7-of-16 field goal shooting. Five of her seven buckets came from behind the 3-point arc. The Wildcats also got a double-digit scoring performance from Mollie Kraner, who scored 12 points on 5-of-9 field goal shooting.
Barnhart said the Colton team inflicted the most damage against her club from behind the 3-point arc, from where they connected on 13 long range bombs.
Bickleton's Katelynn Clinton, who the day before set the 1B State tourney single-game scoring record with a 35-point performance, was limited to 7 points by the Wildcats on Thursday. She made 3-of-13 shots from the field and was 1-for-2 from the foul line.
Clinton also led Bickleton's balanced effort on the boards, nabbing a team-high five rebounds. Teammates Jenna Mount and Aymie Osborne grabbed four rebounds apiece, with Nakai Kibby and Haley Goodnight combining for another five boards. Colton outboarded the Lady Pirates, though, by a 49 to 32 margin. The Wildcats got six rebounds from Kraner, and five apiece from another four players.
Besides the team-high seven points recorded by Clinton, Bickleton's Jamie Venema came through with a five-point effort yesterday. Osborne chipped in three points in the loss, and Kibby, Mount and Morgan McBride added one free throw apiece.
"The fact was Colton was a better team than Bickleton," said Barnhart. "We got our opportunity to play a state championship team and we're still in it. We still have an opportunity to place."
Bickleton was scheduled to face Wilson Creek in a consolation round, loser-out game at State today (Friday) at 2:30 p.m. If the Lady Pirates were victorious today, they'll advance to Saturday's medal round game for fourth and seventh place honors, scheduled that day for 1:30 p.m.