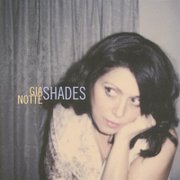 Listening to Gia Notte's latest effort, Shades, I got a few funny comments from co-workers.
One such worker asked me over my cubicle wall if I was waiting on hold. She thought that whichever company I was waiting for had the volume on their 'hold' music up kind of loud. She then laughed when I told her it was music from a CD I was reviewing.
Another co-worker said Gia Notte is the kind of music that Glen Quagmire, from The Family Guy, would listen to.
I like the Quagmire remark because Notte sings like she's on fire. If I can borrow a phrase from John Mayer, Notte is pure sexual napalm.
Giggidy!
Her voice is sultry, a description a lot of people have used when describing Notte as I found out while researching her. But if the word works, then I say use it.
According to her biography, Notte recorded her first CD in 2008. Just You, Just me, and Friends, Live at Cecil's was recorded at Cecil's Jazz Club in West Orange, New Jersey. She recorded Shades in the summer of 2009. The album features 12 songs with Notte on vocals, Don Braden (tenor saxophone, soprano & alto flutes), Jason Teborek (piano), Brandon McCune (piano), Tom DiCarlo (bass), Cecil Brooks III (drums) Freddie Hendrix (trumpet & flugelhorn), Guy Notte (alto saxophone) and Kahil Kwame Bell (percussion).
Caravan is the first song on the CD and this is where the listener first gets to hear Notte's sexy, sultry voice. The horns and piano make a fine match to her voice as she croons the words of Juan Tizol, Irving Mills and Duke Ellington.
The next two songs are more of the same but she really hits it on My Funny Valentine. I read somewhere that this song is hard to pull off, but Notte hits it out of the park.
Not all the music is slow. Notte and her backing bank speed up the tempo on Lover Come Back To Me. Here, we have a chance to hear the range of Notte's voice.
Notte started playing the piano at age 12 and began her voice training under the direction of Patricia Domino at the same time. She also began studying guitar with Carl Botti.
This is jazz and the music isn't for everyone. But, if you're looking to add to your collection or willing to listen to a new sound, then Gia Notte wouldn't be your worst choice.