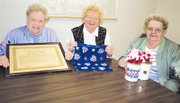 After 90 years, Sunnyside's American Legion Auxiliary Unit 73 is in the process of turning in its charter due to lack of membership and financial problems.
According to President Bev Ice, Poppy Chairman Pat Maynard and Dorothy Aiken, membership and volunteerism within the club has dwindled over the course of the years.
Maynard said it's frustrating that few attend the meetings. "For the past few years it's only been a couple of women (that do)."
Ice, a member for 19 years, said, "It wasn't bad when I first joined. People just aren't clubby anymore."
Aiken said the organization lacks new members. "People are deceased (auxiliary members) and new members just aren't joining."
Aiken's quick to note the organization's accomplishments. "(We have) contributed over $20,000 over the years to the Walla Walla Veterans Hospital, American Lakes gift shop, SeaTac G.I. Lounge, (all of which) was funded by the sale of poppies," she said.
Aiken's been a member since 1952. She's been the local chairman for the Girls State program for 36 years and it's something she feels passionate about.
Over the course of the years, Aiken believes the local auxiliary has sent roughly 150 teens to Girls State, which teaches high school girls about government.
Girls State is important to the remaining ladies of the American Legion Auxiliary. It's something they don't want to see slip away.
"It teaches them respect for their country," said Maynard, the organization's Poppy Chairman.
Aiken noted Bev Ice, president of the organization, has been making tote bags for years for the girls that go to the program, and Ice is always looking for patriotic fabric to use.
Sunnyside High School girls will still be able to apply to go, said Aiken, but they'll be sponsored by the Grandview American Legion Auxiliary chapter and funded by the continued support of Sunnyside businesses and organizations.
Lack of interest on behalf of girls wanting to learn more about the political system wasn't a factor.
"This year we interviewed 18 girls at Sunnyside High School and any one of them could've gone," said Aiken.
Aiken said Auxiliary membership this year has slipped to just eight women, but that could be due in part to the fact that by-laws required her to send a letter out to the unit's members, notifying them it would fold.
Maynard said membership didn't equate to active involvement, which also impacted poppy sales. She said few wanted to volunteer to set up a table with the poppies, which are given to those who contribute funds to the organization. Active involvement hasn't always been an issue, Aiken added. Auxiliary women used to man entrances to numerous local stores.
Of the lack of active involvement, Maynard said, "It's just disheartening. Nobody wanted to come.
"I think it's a thing of the past. Sad. But you can lead a horse to water. You can't make it drink."
-