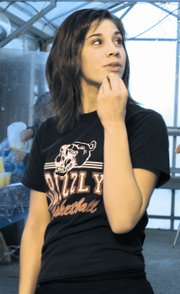 Sunnyside High School's Toni Castillo wants to be a pediatrician, and to further her chances at being selected by the college of her choice recently competed to participate in the Washington Aerospace Scholars program at the Museum of Flight in Seattle.
She was accepted into phase one of the program recently and will spend the next five months studying a NASA-designed, distance-learning curriculum online.
The curriculum includes topics like the history of human spaceflight and the analysis of current evidence supporting the theory of life on Mars. There are 10 online lessons and Castillo and others involved in the program must complete written essays, compute space-related math problems and design graphics that illustrate ideas the students envision.
"This is obviously going to be a lot of work beyond my regular studies. It's not expected to be easy," said Castillo, a junior at Sunnyside High School.
She said the Washington Aerospace Scholars program is highly demanding and colleges recognize the highly accredited program when students apply to higher education institutions.
"I applied to the program to further my academic goals," explained Castillo, stating she hopes to further develop her science and math skills to assist her in meeting requirements necessary to receive a degree when she attends college.
She said she believes the experience of participating in the Washington Aerospace Scholars program will be an adventure, helping her better understand the environment around her.
The five months of study is the first phase of the program. If successful, Castillo will have the opportunity to qualify for phase two, a summer residency through the months of June and July at the Museum of Flight.
Museum President and CEO Dr. Bonnie J. Dunbar, a graduate of Sunnyside High School herself, said, "These students competed against a strong set of requirements, including writing a personal essay and demonstrating proficiency in math and science. We are very proud of them. They are the generation who will solve the challenges of the present and create future dreams."
More than 240 students applied for the program, and Castillo was selected from among them.
If she qualifies for the summer residency, she will collaborate with other students in the program on the design of a human mission to Mars. She will be guided by professional engineers, scientists, university students and certified educators as they plan missions.
All expenses will be paid during the summer residency.
"I am just hoping to make it to the next part of the program," Castillo commented.
More like this story