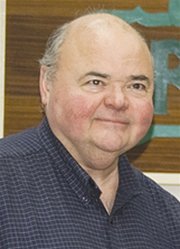 Grandview City Administrator Scott Staples is one of three newly elected board members for the Yakima County Development Association, also known as New Vision.
The other two new board members are Vickie Ybarra, director of strategic planning for Yakima Valley Farm Workers Clinic, and Maureen Adkison, Yakima City Council representative.
Staples said the role he and other board members have is helping the agency prepare its work plan in aiding Yakima County's economy
"I'm very excited about the people I will be working with on the board," Staples said of his two-year appointment.
Other Lower Valley leaders on the New Vision board include Wapato Mayor Jesse Farias, Port of Sunnyside Executive Director Amber Hansen and Sunnyside Community Hospital CEO Jon Smiley.
Among the board's priorities in 2010, Staples said the focus will include marketing and recruitment for new businesses and industry in the Yakima Valley.
"We're trying to promote a positive image for the Valley as a place to do business," Staples said.
He noted that recruitment also includes generating a trained employee base to meet the technical demands of new businesses.
Accordingly, New Vision has established new websites at liveyakimavalley.com and at workyakimavalley.com
Staples also sees an importance in working with existing businesses.
"There's so much attention to bringing in new business from the outside, but it's easy to forget to work with existing businesses," Staples says. "They're the ones already here and you want to make sure they're healthy."
In addition, he's a firm believer in working with businesses in the Valley as a way to generate leads to bring in new business.
New Vision is committed to the Valley's business community, Staples said, noting that in 2010 the agency will host industry roundtables and provide workshops to local merchants focusing on business practices.
"We try to be a source of support for them," Staples said of continuing educational opportunities that New Vision offers. "In the Lower Valley a lot of businesses don't have resources themselves to get access to some of the training that might be helpful for them."
Staples said he and other board members have a focus and a priority that emphasizes the entire county's economic health.
But as Grandview's city administrator, Staples said he is in a unique position to remind the board about possible business and industry sites in the city.
"We have several sites at each of our interchanges that are ranked quite high in terms of attractiveness," Staples said.
He noted that a focus on community leadership is part of New Vision's priorities. In addition, the board monitors government regulations at state and local levels.
One of Staples' first responsibilities on the New Vision board will be an orientation session this month.
More like this story