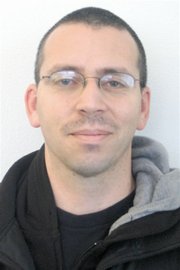 Newly appointed Sunnyside Planning Commissioner Craig Hicks is serving the city of Sunnyside because he wants to see things improve.
"I saw the way the town is going so I thought I would try to get involved with it," Hicks said of serving on the commission.
Hicks is originally from Roosevelt on the Columbia River but has lived in Sunnyside for the past two years. He's been working at Darigold ever since.
This isn't his first foray into serving Sunnyside. Hicks applied for the city council seat left open by Bruce Epps earlier this year when Epps resigned but was beaten out by Jesse Hernandez Jr. Hicks was appointed to the planning commission this past November by Sunnyside Mayor Pro-tem Jim Restucci. He will serve for four years.
While Hicks wants to get involved with helping the city of Sunnyside he also wants to get some experience under his belt. He hasn't ruled out a future run at the city council.
But for now Hicks will work on the planning commission, where he and other commissioners will help make recommendations to the city council on things such as land use, zoning and annexations.
Annexation is something Hicks favors.
"The more land the city has the more businesses that can be brought in," he said. "The more businesses mean more people. More people means more money for the city of Sunnyside."
Hicks said he wants to see more businesses come to Sunnyside, especially bigger businesses.
The most pressing land use issue he sees in Sunnyside for the moment is the airport overlay. The planning commission has been working on this issue for quite some time, but Hicks said if things go as expected the planning commission will forward on its recommendations to the city council at January's meeting.
"If the airport is zoned right it could help to bring in more business," he said.
Hicks also worked a bit on the recent amendment to the city's cabaret ordinance, which was just adopted in council chambers last Monday.
Other than that Hicks said the planning commission will be working on several annexation applications in the New Year.