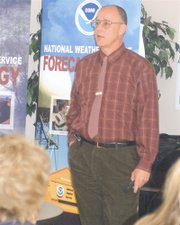 Sunnyside Daybreak Rotarians Wednesday morning learned weather ins and outs from guest speaker Dennis Hull. Hull is a Warning Coordination Meteorologist for the National Weather Service based in Pendleton, Ore.
Hull informed Rotarians of the many tools available at their fingertips should they visit the website www.weather.gov/pendleton.
Hull informed Rotarians how the website is a useful tool in terms of planning either fun events or the workday with the site's "activity planner."
Hull said, "If you're planning an outing, say a picnic, and you want it to be nice, this will give you an idea when those weather conditions will occur."
The activity planner allows internet users to type in data like what relative humidity or temperatures or surface wind mileage they'd like to see on a given day. Hull gave the example of a farmer wanting to spray his crops, but not wanting to do it on a windy day; the farmer could check the website and see what day the activity planner recommends. Hull said while the planner is a useful tool, it's also up to the user to check back on the website for updates in case conditions change.
Hull said, "Ten years ago did you even think about having something like this?"
He said the concept of weather forecasting isn't new. "We've actually been doing this manually for a long, long time."
That's because the weather service determines the fire weather threat index, which projects winds, dry conditions and instability of the atmosphere. Hull said if the atmosphere is unstable, it can create a plume-dominated fire, which can carry embers far away, sparking additional fires.
Also featured on the website is a milepost forecast, which allows travelers to have a good idea of what to expect when they reach certain points in their destination.
Hull also addressed weather warnings and advisories. He said weather warnings mean a threat to life or property exists and advisories indicate what will likely be an inconvenience.
The Pendleton Weather Service has many roles, Hull said, including creating seven-day forecasts, weather advisories, aviation forecasts, hydrologic forecasts, data gathering and storage and equipment maintenance, which he said is quite significant due to the amount of equipment, like computers and monitors, the organization uses.
Hull welcomed Rotarians to call 541-276-7832 and request a tour of the weather service office in Pendleton.