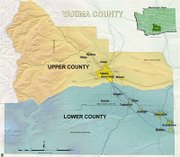 Unless you frequent the internet, it can be awfully challenging during this time of year to keep up with burn ban declarations in the Lower Valley.
Yakima Regional Clean Air Authority is responsible for declaring burn bans. It does so based on 24-hour a day monitoring of tiny air particulates, as well as weather conditions and forecasts from Pendleton.
Yakima County is a particularly challenging area, according to Yakima Regional Clean Air Authority's Dave Caprile.
"Our weather conditions are such that we frequently have to weather conditions that produce the same effect. A high pressure system pushes pressure down and holds our surface air in this valley, or bowl, that we live in," Caprile explained. "Until (it) weakens or lifts, there is a continued level of pollution and it begins to build a thicker mass down toward the ground."
Stable air mass is the other weather condition that holds pollution in the air. With a stable air mass, Caprile said, "There is no wind to move it around, no ventilation to dilute or move it."
The Yakima Valley has a long history of wood burning, Caprile said, and it's due in part to the fact that wood's readily available, whether it's orchard wood or tamarack wood from the forest.
"The problem is kind of an insidious thing that has grown over time: there's too many of us now," Caprile said.
Caprile noted there is usually more ventilation in the Lower Valley than the Upper Valley.
The biggest problem in the winter are the particulates created by unburned wood. It may sound like those particulates have a mass to them, but they're very small, so small that Caprile said it would take 15 or so wood particulates to create the diameter of a strand of air. The particulates can get down in the air sacs of the lungs, leading to breathing trouble.
When it comes to air pollution in the valley, Caprile said it's a "saw-tooth' effect. People burn wood, weather produces stagnation keeping pollution down and improperly ventilated, creating a burn ban. A burn ban is declared, particulate contribution from wood burning decreases, weather improves, and, Caprile said, "People burn, burn, burn."
Burn bans then are declared off and on throughout the colder months.
"It's all health-based, really," he said. If air quality begins to deteriorate, Yakima Regional Clean Air Authority has five color categories to determine approximate health impacts.
When it's green, all is well in terms of particulates. When it starts to deteriorate, the color code switches to yellow, which means it poses a moderate health risk. When it moves to orange, that means the air is unhealthy for those with existing health conditions. The next color is red, meaning the air is unhealthy. Rarely does Yakima County reach the last two stages: very unhealthy (purple) and hazardous (maroon).
When asked why Yakima Regional Clean Air Authority doesn't just declare burn ban status for a period of time when weather is traditionally stagnant, Caprile said, "It's really not fair to tell people they can't use their $3,000 to $4,000 (wood-burning) device."
In the past couple of years, Caprile said notification through the media has improved, though sometimes toward the end of the colder season readers become disenchanted with the "same old news," so it might be easy to miss a burn ban declaration in this area.
For that very reason, Caprile recommends those who have a computer to frequent Yakima Regional Clean Air Authority's website: www.yakimacleanair.org. For those who do not have a computer, Caprile suggests checking the current burn status by taking the time to call 834-2050, and pressing 1.
Caprile said it's his organization's job to "watch, guard and protect air quality."
Caprile said it's not easy, but Yakima Regional Clean Air Authority is committed to educating people and even dispersing grant funding so Yakima County residents with wood burning as the primary source of heat can replace uncertified fireplace and wood stove inserts.
Since the clean air agency began dispersing the grant funds, roughly 1,000 wood stoves in Yakima County have been switched out to cleaner burning devices.
Caprile said his organization expects to be able to provide rebates and even full-replacement costs next year for those who qualify, and those who are interested need to call now. For more information, call Michelle at Yakima Regional Clean Air Authority, 834-2050, ext. 100.