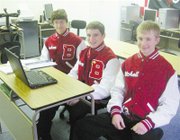 ZILLAH - Three Bickleton High School freshmen accepted the Zillah Robot Challenge last month and came through with flying colors.
The students are Joshua Cummings, Peter Clinton and Mitchell Powers. They called themselves The Three Roboteers for the competition, which was a computer class assignment under the guidance of BHS technology coordinator Tom Whitmore.
The Bickleton boys placed sixth out of 19 teams at the Zillah event, including earning first-place honors in the "Follow me" robot category.
That particular challenge required students to program the computer in such a way so that it could find its way through three obstacle courses. Bickleton's robot completed the three mazes in the fastest time and was declared the winner.
Whitmore said the key to his students' success was programming the robot to be light sensitive, and then knowing how much light to apply to guide it through the maze.
Another competition featured a "Sumo" event in which the goal was for one robot to push the other out of a circle. There was also a bonus round.
This was Bickleton's first time to compete in the robot challenge at Zillah High School, which provided the robot kits for each of the teams competing. At the end of the competition, the robot kits were returned to Zillah.
It may have been Bickleton's first venture into robot competition, but Whitmore said it likely won't be the school's last. If students are willing, he said, Bickleton will have another team later this year.
The competition has also helped classroom learning, he said.
"It gave the kids more exposure to computers and how they work," Whitmore said.