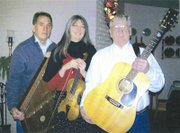 Mabton Grace Brethren kicks its Gospel music jamboree season for 2010 on Sunday, Jan. 17.
The first jamboree of 2010 will feature the group A Number of Strings. The group includes Mike Tweedy on the 76-string Hammer dulcimer, violinist Kristi Hunziker and guitarist Jim Thomas, members of the Washington Old Time Fiddlers Association.
Tweedy is a military veteran and works at the Yakima Training Center, Hunziker is employed by the state of Washington, and Thomas is retired. He grew up in a musical family in which he played back-up guitar to his father and for many state and national champion fiddlers.
The trio combines their musical talents to provide uplifting and joyful music.
Also performing Jan. 17 will be Joyful Noise, Heartstrings, Bill Lawson and numerous other artists.
The jamboree takes place from 2 to 4 p.m. and is free to all who attend. Donations are welcome.
For more information, contact Debbie Skinner at 305-9234.