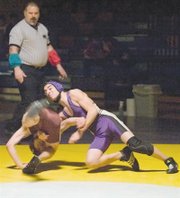 MABTON - Last night's wrestling meet between the Mabton Vikings and the Highland Scotties featured five forfeits and several wrestlers opting up in their respective weight classes.
The result was a 32-21 CWAC win for the Vikings, who improved to 1-1 in league meets.
"It was a good night," Mabton Coach John Kilian said.
There were no matches in the 103-lb. and 112-lb. weight classes. Mabton's Vicente Mireles, who usually wrestles at 112 lbs., was bumped up to the 119-lb. weight class where he took on Isai Sanchez.
Giving up nearly 10 lbs. to the Highland wrestler, Mireles fought hard and scored an escape at the end of regulation to tie the score at 5-5. But an exhausted Mireles couldn't hold on in overtime, succumbing to a pin with 35 seconds left.
Down 6-0, Mabton fought back in the next two matches to tie the score at 6-6.
Mabton's Danny Magallon bumped up to the 125-lb. weight class and beat Andres Tereza 9-5.
"That was a good win for us," Kilian said.
In the 130-lb. match, Mabton's Samuel Sexton got an escape with two seconds left in the match to win 9-8 against Oscar Morales.
Sexton was leading 7-2 heading into the third period but got taken down in the final minute as Morales tied the score at 8-8. With the crowd screaming him on, Sexton got the escape at the last minute to come away with the win.
With the score tied at 6-6 Mabton then forfeited its 135-lb. and 140-lb. matches and fell behind 18-6.
No match was wrestled in the 145-lb. weight class, which bumped up Mabton's Fabian Ruiz to 152 lbs.
Ruiz beat Samuel Sanchez by technical fall, 17-2.
Mabton experienced more drama in the 160-lb. match. Viking Frank Martinez beat Angel Aguilar 12-8 but not before the Highland wrestler made a run.
Martinez was up 8-2 going into final round and Aguilar outscored him 6-4.
"That was a good win, too," Kilian said. "Frank had a big lead and then hung on for the win."
Trailing 18-14, Mabton's Jakob Donner (171 lbs.), Mario Cardenas (189 lbs.) and Jesus Cardenas (215 lbs.) all received forfeits and the Vikings sprung into the lead, 32-18.
In the final match of the night Mabton's Eric Huesca, who normally wrestles in the 215-lb. weight class, bumped up to heavyweight and took on Johnny Medina.
"Medina weighs 279 lbs. and Eric is 205 lbs.," Kilian said. "He gave away a fair amount of weight."
Medina was able to score a 2-0 win over Huesca.
Mabton (1-1, 1-4-1) will participate in the Wapato Tournament on Saturday, Jan. 9. Matches began at 9 a.m.