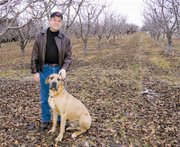 GRANDVIEW - Longtime Grandview area resident Don Olmstead Jr. was last week appointed a state committee member for the Farm Service Bureau.
The federal agency appointment was made by the Obama administration.
Olmstead, whose family has been growing cherries here for nearly 90 years, said he doesn't know who put his name forward as one of five Washington farmers selected to the state committee. He did not seek the position.
"It came out of the blue with a phone call," he smiled.
The other four appointees are Lennie Davis of Coulee City, who previously served on the state committee under the Clinton Administration, Larry DeHaan, a Lynden dairyman, Steve Hair, a Walla Walla wheat grower, and Jesus Limon, an apple orchardist from East Wenatchee.
Olmstead, 62, is no stranger to serving on public boards and commissions. He has been on the Grandview Planning Commission for nearly 20 years and has served on the Washington State Fruit Commission since the early 1980s.
Olmstead said he's busy learning about the work he and the other appointees will be doing on the state committee. At this point, he sees his role as a "conduit" between the federal government's farm bill and Washington state growers.
He says he may not have the answers to questions or issues that arise for farmers - especially since he's so new to the committee - but he knows how to get them in contact with people who can answer their questions.
The committee members oversee the Farm Service Agency's activities, including agricultural conservation programs and helping to keep producers informed about Farm Service Agency programs.
In addition, the Farm Service Bureau's state committees have the task of resolving appeals from the agricultural community.
Olmstead, whose family orchard grows cherries, pears, plums and prunes, likes the fact that growers - peers in the agricultural community - get to help work with farmers in administering federal programs.
That's especially true in Washington state, which he noted has the third most revenue from ag production in the nation.
"It's an exciting way to give back a little bit," he said. "To make sure that agriculture has the brightest future we can give it."