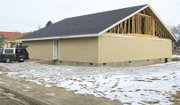 Not surprisingly, there were few new building starts in Sunnyside during a colder than normal December.
But of the 19 new projects last month, there was a combined valuation of more than $1.3 million. Six of the projects earning thumbs up from Sunnyside city planners last month were valued at more than $150,000 each.
By the far the biggest new building start was a new duplex green lighted for 1122 Tacoma Ave. The project is valued at $267,491 and netted nearly $3,200 in permit fees for the Sunnyside city coffers.
Accounting for about half of the new valuation in December, though, were four new houses approved for Catholic Charities Housing Services. The four homes each have a valuation of $165,567, more than $660,000 altogether.
Each of the four houses are two-story, single family residences with 1,310 square feet of living space plus a 414 square-foot garage. Together the four houses generated more than $6,000 in permit fees for the city of Sunnyside.
Another large project getting the go ahead last month from city planners was a drive-in pallet rack at 400 Alexander Rd. The building has a valuation of $174,000 and resulted in $2,327 in fees collected by the city of Sunnyside.
One other sizeable project approved last month was a 1,037 square-foot addition to a home at 804 S. 10th St. The addition is valued at $72,590 and netted $1,332 in permit fees.
The city of Sunnyside garnered a total of $16,525 in permit fees during December.
City officials conducted 271 inspections last month, 159 of them for buildings.
Sunnyside City Hall also issued 38 permits in December, with 16 for buildings and 13 others for mechanical applications.