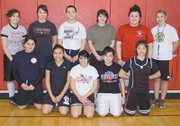 It used to be you could count the number of girls on the Sunnyside High School's wrestling program with one hand and have some fingers left over.
Now the girls wrestling contingent is well into double figures.
The 2009-10 team started the season with 20 girls and currently has 13 athletes. Just last season there were only five girls and only three the year before that.
Grizzly wrestling Head Coach George Paulus says the program's success has attracted a growing number of athletes, girls included.
"The guy's team has been successful for years now and the opportunity is there for the girls," said Paulus. He noted the fact that one of the girls medaled at State last year also sparked interest.
Paulus noted that many of the girls are underclassmen, which means likely continued growth.
The increased number of girls this season has prompted the wrestling program to hire an assistant for the girls.
"When we saw that we had that many girls, we knew we needed some help supervising those girls," Paulus said of the decision to hire Gina Hopkins as an assistant.
Hopkins' responsibilities with the Lady Grizzly grapplers include assisting the girls with weigh-ins and helping the girls with their drills.
She also travels with the girls team to away matches.
Hopkins credits the growth in girls wrestling to the positive attitude of the Sunnyside program. She says the Grizzly wrestling team is accepting of female participants, which Hopkins adds is not the case with many school districts. "There's an open door, the girls here are encouraged to join," she said.
Hopkins also said the success of the Sunnyside wrestling program has been a factor in drawing more girls.
"It's a good alternative for those who don't participate in basketball," she said.
The Sunnyside girls are making the most of their chance in wrestling.
Among the Lady Grizzly notables are Jocelyn Yanez (103 lbs.) with a 7-2 record, as well as Yunuenn Garcia (119 lbs.), who boasts a 9-1 mark. Other Sunnyside girls of note are Amber Rodriguez (140 lbs.) at 6-1, Maria Olivera (160 lbs.) at 10-3 and Adelany Pacheco (285 lbs.) at 7-1.
Hopkins says it all adds up to a good outlook when the postseason approaches.
"We have a lot of strong girls," she said. "I expect some to be State qualifiers."