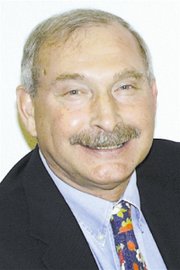 Last night a divided Sunnyside City Council voted 4-3 to interview a former Sunnyside city manager interested in taking over the reins at city hall.
The discussion on whether or not to interview Dave Fonfara was supposed to take place behind closed doors in executive session but Councilwoman Theresa Hancock questioned the need for an executive session. She pointed out that it has been reported in the press that the executive session was about Fonfara and saw no reason for the discussion to be held behind closed doors.
Council members Tom Gehlen, Hancock, Jim Restucci and Mayor Paul Garcia voted to oppose the executive session. Council members Nick Paulakis, Don Vlieger and Mike Farmer voted for the executive session.
Vlieger said he had no problem holding the discussion in open and laid out his reasons why he thought the city should bring in Fonfara on an interim basis. Fonfara served as the city manager here from January 2000 to January 2004.
Vlieger said city hall is a fractured environment and that the current interim city manager, Jim Bridges, has not been able to change that. Vlieger, officially attending his first council meeting since being elected to office in November 2009, said he hasn't been able to work with Bridges since he was elected to council and called some of the responses Bridges has given him to questions Vlieger has had, childish.
Vlieger told council he would like to see Bridges back in public works, which he said was struggling. He added that Fonfara knew most of the city staff and the community. He said he believes Fonfara could bring stability and peace to city hall.
Hancock countered, saying there has been good contact between the council and Bridges. She questioned the need to bring in another interim city manager to replace the current interim city manager.
She pointed out that the city is moving in the right direction. Personnel policies are being implemented and she believes Bridges understands the organization in place at city hall. More importantly, Hancock said, she trusts Bridges.
While Hancock had no doubt that Fonfara is fully qualified to run a city, she said now is not the time to make that decision, calling it premature and predicting it would further fracture the organization.
Councilman Mike Farmer said he meant no disrespect to Bridges, acknowledging the current interim city manager has been dealt a "boatload of problems", but said he hasn't been able to solve them.
Farmer said one of the most notable things about Fonfara is his team building skills. Farmer predicted that Fonfara would be able to work with current staff and council members.
Garcia also gave his opinion, saying Bridges has done an admirable job at city hall while keeping the council fully informed of what was going on. Garcia said the way to solve the problems at city hall isn't to bring in a new interim city manager, but to begin the search for a full-time city manager.
Restucci said he has no problem listening to what Fonfara has to say.
Vlieger made a motion for the council to interview Fonfara. Farmer, Vlieger, Paulakis and Restucci voted to allow it. Gehlen, Hancock and Garcia voted no.
After the meeting Vlieger said there are factions at city hall and Bridges is in one of those factions.
"There is no way a member of one of the factions can address the problems at city hall," he said. "Fonfara has no axe to grind."
No date has been set for when council will interview Fonfara.
Council voted 7-0 to begin the search for a permanent city manager, as well, at last night's meeting. At a special council meeting to be held on Thursday, Jan. 14, council will discuss ways to go forward on that.