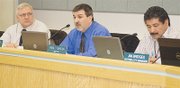 Sunnyside Mayor Paul Garcia is out and long-time Sunnyside Mayor Pro-tem Jim Restucci is in as the Sunnyside City Council elected a new mayor at last night's meeting.
Garcia had been mayor of Sunnyside for the past two years, taking over the ceremonial duties from former Sunnyside Mayor Ed Prilucik.
Restucci had served as Mayor Pro-tem under both Prilucik and Garcia.
Sunnyside Councilwoman Theresa Hancock nominated Garcia to retain his seat as mayor, but then newly elected Councilman Don Vlieger put Restucci's name into the hat.
The council then voted 4-3 to approve Restucci as the city's new mayor. Councilmembers Nick Paulakis, Restucci, Mike Farmer and Vlieger voted for Restucci. Garcia, Hancock and Gehlen voted to retain Garcia as mayor.
Hancock then nominated Paulakis for mayor pro-tem and Vlieger nominated Farmer for the same position. After Paulakis received a second, Farmer moved to close the nominations. Paulakis was approved 7-0.
One of Restucci's first acts of mayor was to get council to change the name of the mayor pro-tem. Calling it outdated, Restucci suggested the mayor pro-tem now by referred to as the deputy mayor. Council agreed.
Restucci is currently the longest serving member on the city council. He has also served as vice chairman for the Yakima Valley Conference of Governments, vice chairman of the Valley Mayor's Association and is on the Association of Washington Cities legislative committee.