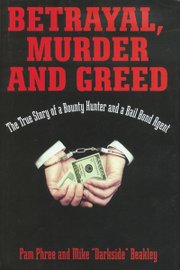 A new book released this month by New Horizon Press may be the strangest read that has crossed my path this year.
What might have been a snappy prologue lead-in to Betrayal, Murder and Greed is bogged down by a nine-page history of bail bonding and bounty hunting that follows. The nine pages may be informative, but definitely distract from what had been promised to be a riveting story about the agents who get shady characters out of jail and the hunters who put them back in.
After the third page of that cumbersome history, I was ready to toss the book, but a promise to review a book for the Daily Sun News is, after all, a promise...so I skipped the next six pages!
Things started to pick up in Chapter One. I read about a single mother with a 15-year-old son who, she said, was old enough to take care of himself. That way she could work weekends and long overtime hours and hang out with co-workers until the wee hours on Friday nights at a favorite bar where she found it exciting to watch the drunks pass out and prostitutes work the clientele.
And that woman wasn't one of the shady characters. She was Pam Phree, one of the co-authors of this true story of a bounty hunter and bail bond agent!
The book describes Phree's co-author, a former Tacoma police officer turned bounty hunter, as one who addressed prostitutes as "sweetheart" and also liked his bar time and the "war stories" he exchanged with like-minded people. With tattooed 'sleeves' from shoulders to wrists, Mike "Darkside" Beakley and Phree left me wondering if their so-called 'shocking' clientele could top their act.
The people for whom Phree arranged bail and Beakley chased down when they did a skip and didn't appear in court, thus leaving the bail bond company holding the bag, were about what you'd expect to find in courtrooms. The mix of druggies, burglars and rapists ranged, according to the stories the authors spun in this book, from those who went peaceably to those who put up a fight that called for reprisals of pepper spray, tasering and, in several cases, gun play by the bounty hunters, resulting in at least one death of a client.
The underlying theme of Phree and Beakley's book is that bail bond agents and bounty hunters are assets for the court system and the public in general. They explain that those who come before a judge are often repeat offenders, so having the vigilant eyes of the bail bond business upon them can be a deterrent to further crimes. I'm sure there was more than that to their argument, but it was about as interesting as that nine-page introduction at the beginning of the book.
The authors also take credit for being instrumental in cleaning up the bail bond business by weeding out overly enthusiastic bounty hunters who tended toward violence, or accepted bribes or demanded sexual favors when arresting those who had defaulted on their bonds. There is also a section in the book that describes Beakley's efforts to get legislation passed in Washington state to make bail bond companies responsible for things such as training personnel.
I usually have to like, admire, or relate to at least one person in any book I read. When I reached the last page of this book, I was still looking for that one person.
As I said, it may be the strangest book I've read in 2009, and, since I read at least five books a week, that's saying something.
I leave it to your discretion if this $24.95 book is for you. As for me, it stirred my curiosity to the point that I decided to talk to a bail bond agent right here in town to see how agents and bounty hunters conduct their business right here in Sunnyside. (See related story on this page.)
- Frances Potts of Sunnyside is a retired journalist, newspaper editor and publisher, and author of the soon-to-be-released novel, "The Diary."